Summer Course: The Photographic Project 2023
During the summer of 2023 the students in the course 'Photographic Project' at HDK-Valand completed their photographic works. Through critique classes, discussion, and writing they responded to each other's works and produced a varied array of photographic projects addressing a wide variety of themes and subjects areas. You can read their artist statement and see their projects below.
For more information on our courses please click the link.
—
Queer Landsbygd / Queer Countryside
Linnéa Tammerås
"Queer Landsbygd/Queer Countryside" is a series of portraits of queer people living on the Swedish countryside. The aim of the project is to widen the representation of both queer people and the countryside.
Growing up queer in a medium sized city in Sweden, the urge to seek community in larger cities was ever present for Tammerås, as for many queer people both now and historically. However, what is it like for those who stay? And for those who move to the countryside later in life? Is there community or not? In what way does your geographic location interact with your identity? "Queer Landsbygd" is an attempt to explore these questions while aiming to paint a larger picture of the queer Swedish countryside.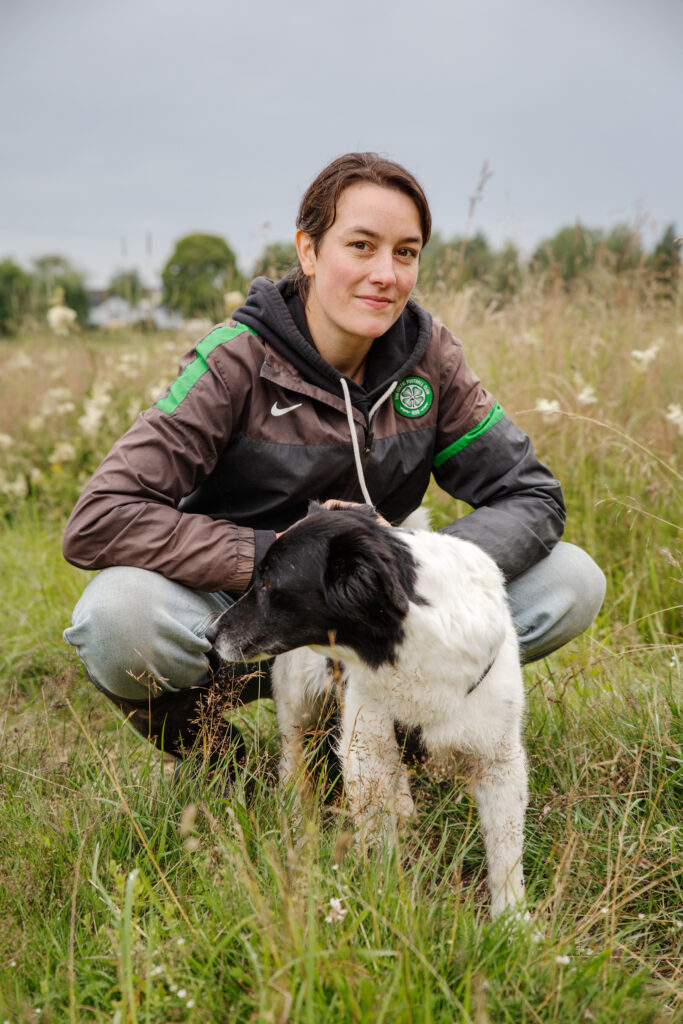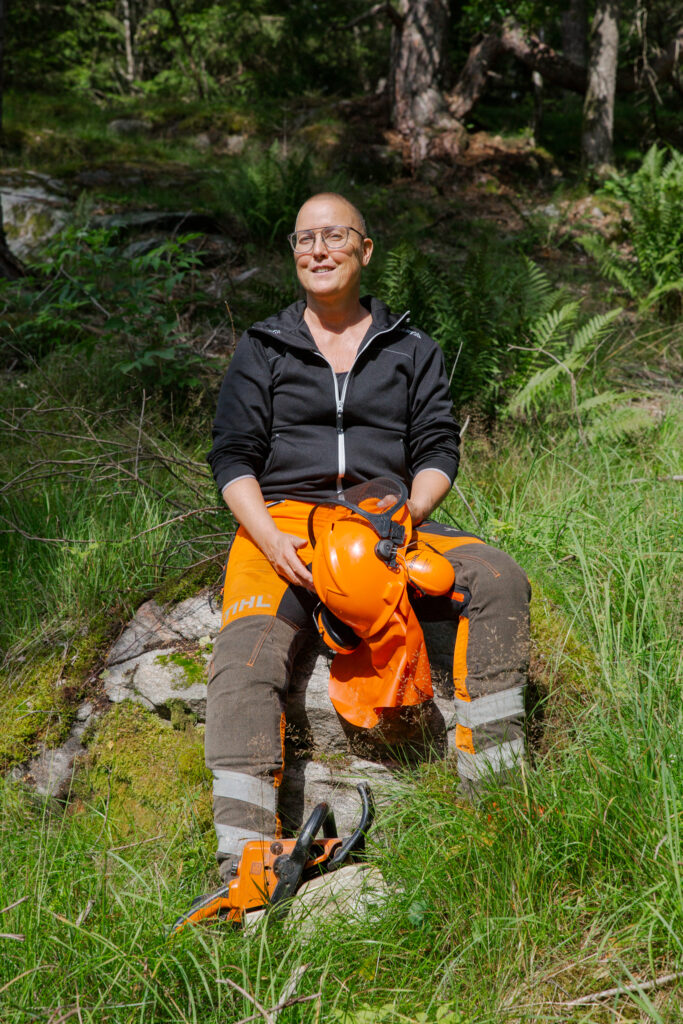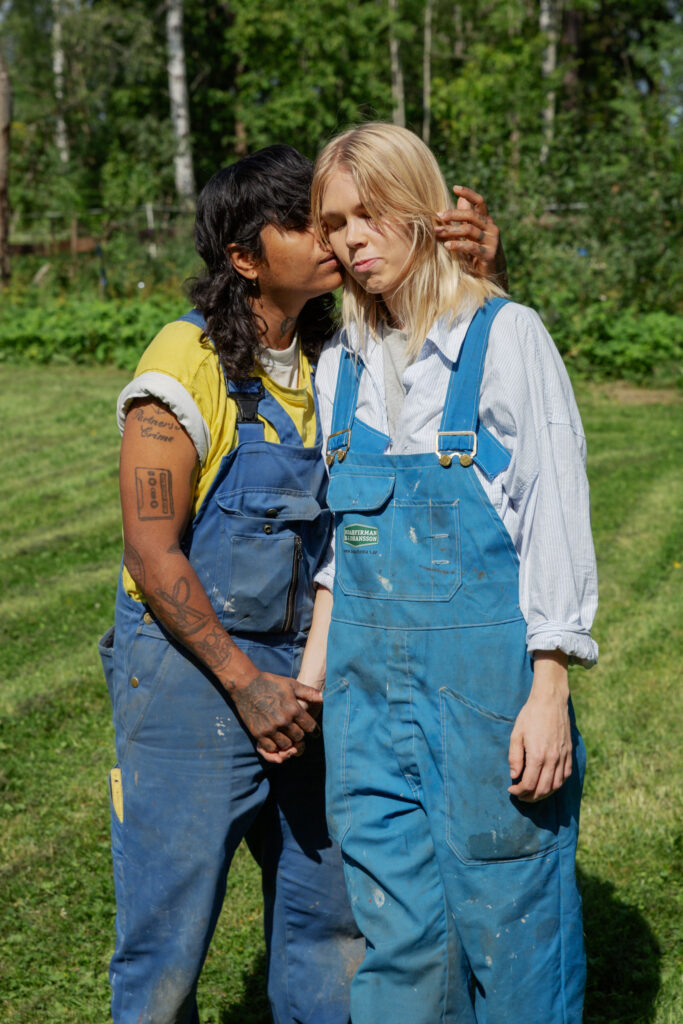 —
Helena
Susana Santa- Marta
"Helena" is a series of moments, landscapes and portraits of Helena Carvalho, or "Tia Helena" a resident of the neighborhood of 2º Torrão, whom I met whilst researching and filming material for a documentary film project about the current wave of evictions and demolitions in disadvantaged neighborhoods in Lisbon.
2º Torrão is a self built neighborhood, in the municipality of Almada, in the south bank of Lisbon, with about 2500 residents, since June 2022 the city council has started the demolition of houses built above a drain ditch, in a process that residents have deemed as disrespectful, traumatic and violent. Sixty families were affected. Rehousing solutions were far from appropriate and did not include all the people dislodged.
Four households, excluded from rehousing managed to stop the demolitions of their homes in a resistance struggle that is yet not quite resolved, Tia Helena was one of the last ones standing until June 2023, where she was given no choice but to take a "long term" temporary apartment, that not only is too small to house her and her seriously ill daughter, but completely unsuitable for her motor disabilities on a third floor, far from her former support network, a independent life becomes extremely difficult.
This series of photographs is not only a document of her journey but also an ode to her strength and resilience, going through all these tribulations not only with perseverance but a joy that became an example of hope in community. It is also a tribute to the growing friendship between Helena and me; developing as I follow her journey, her victories and setbacks, her joy, her love for feeding others, and her unwavering faith that this too, shall pass.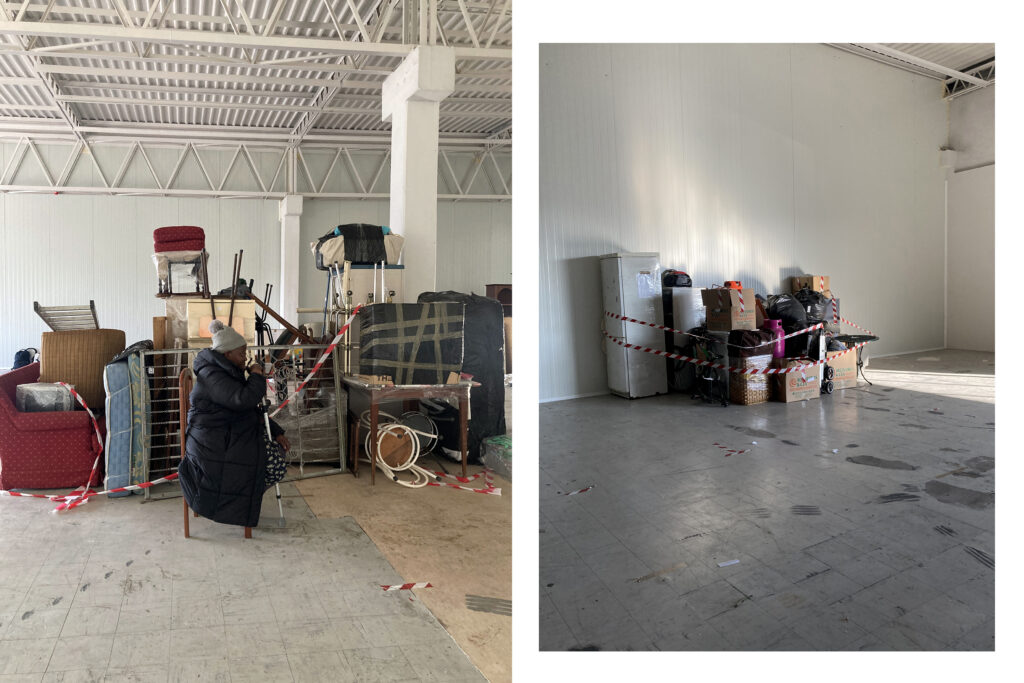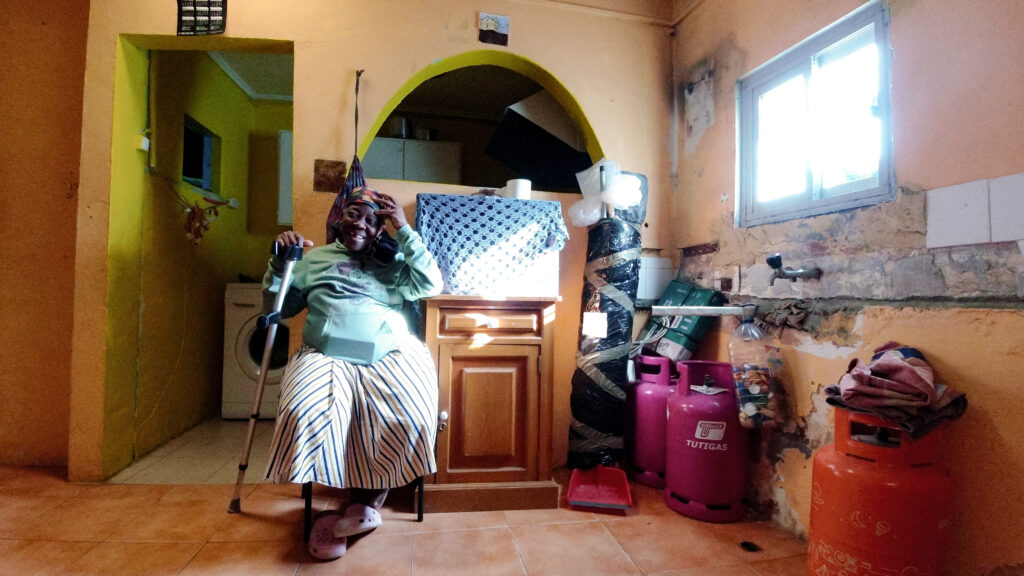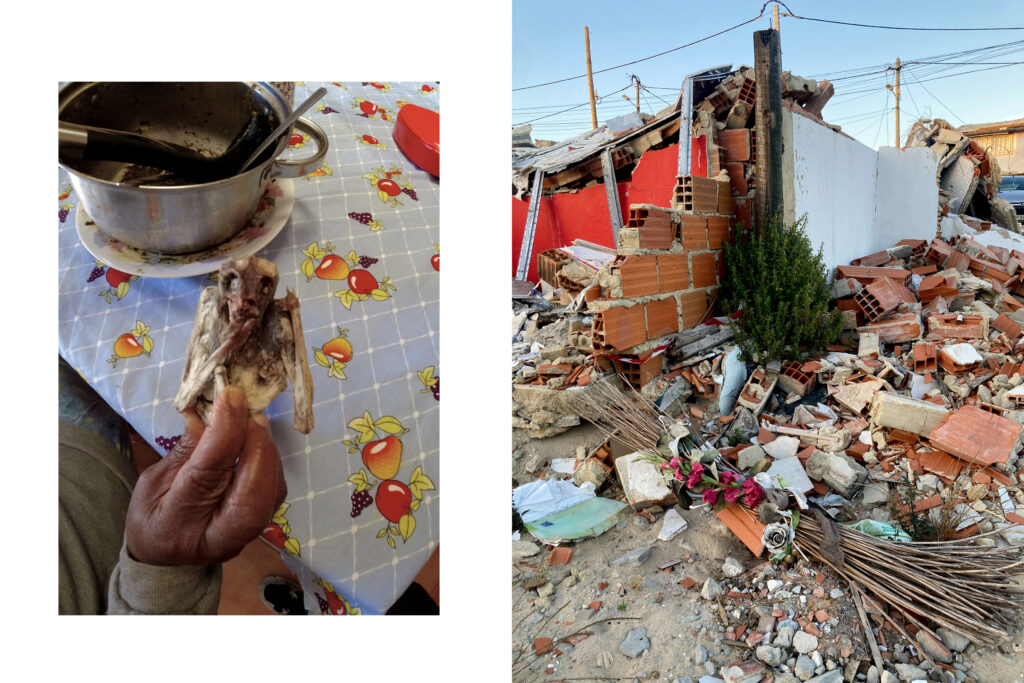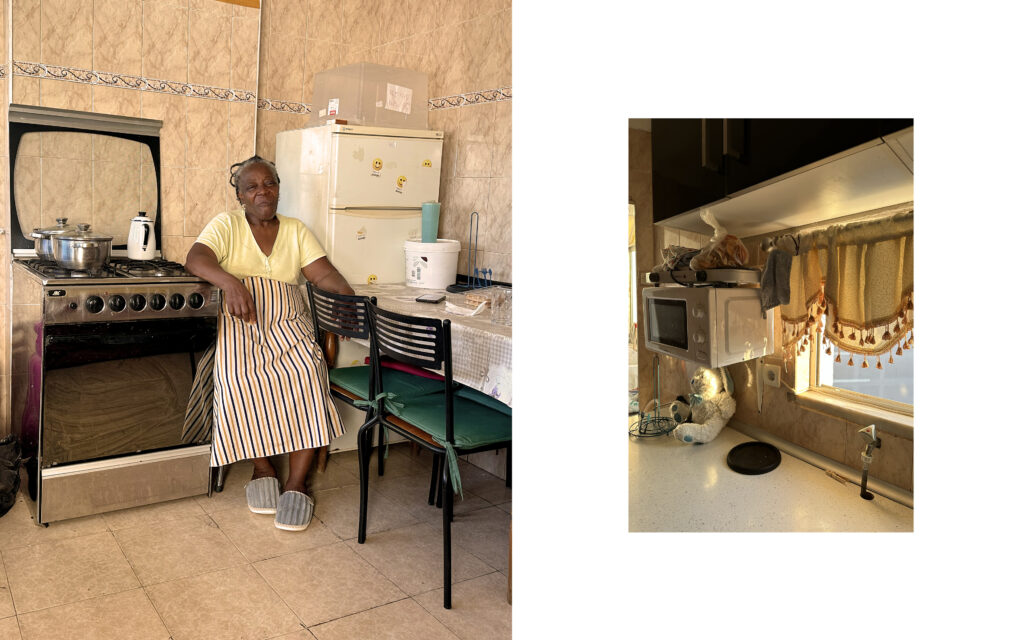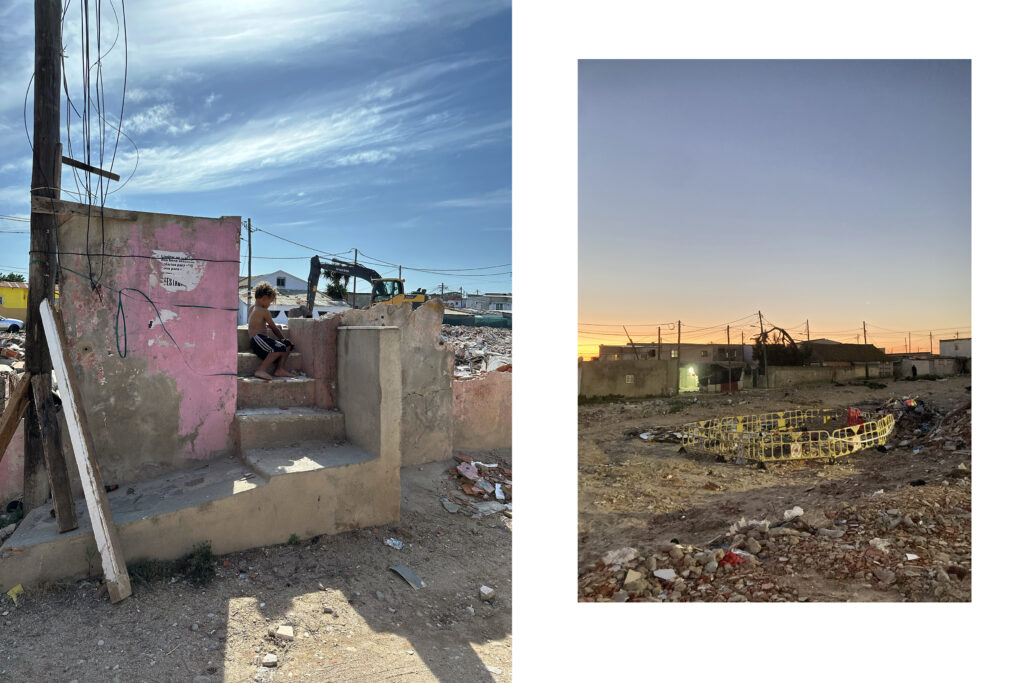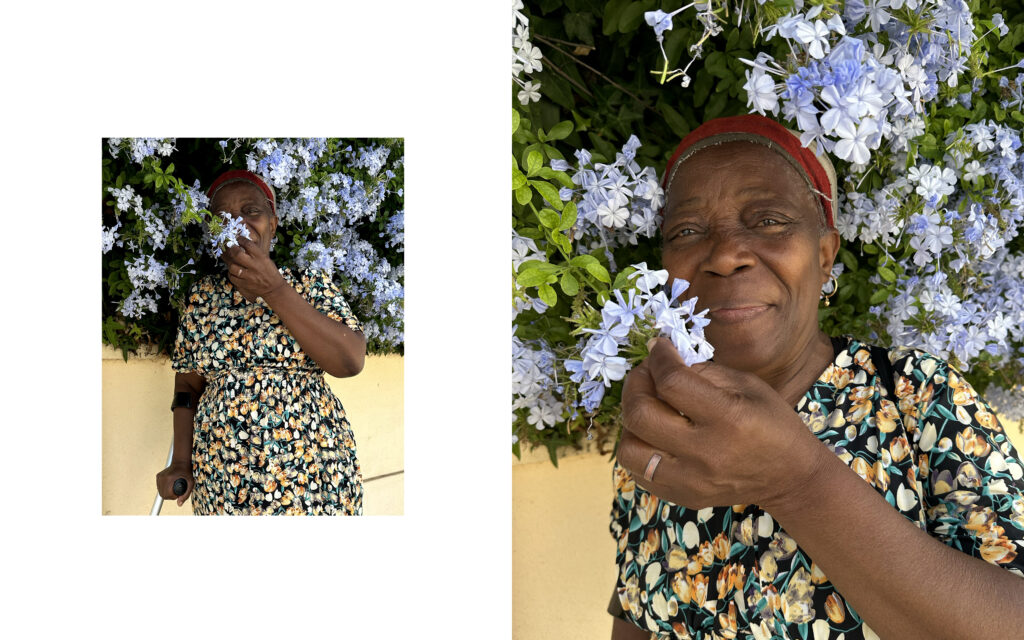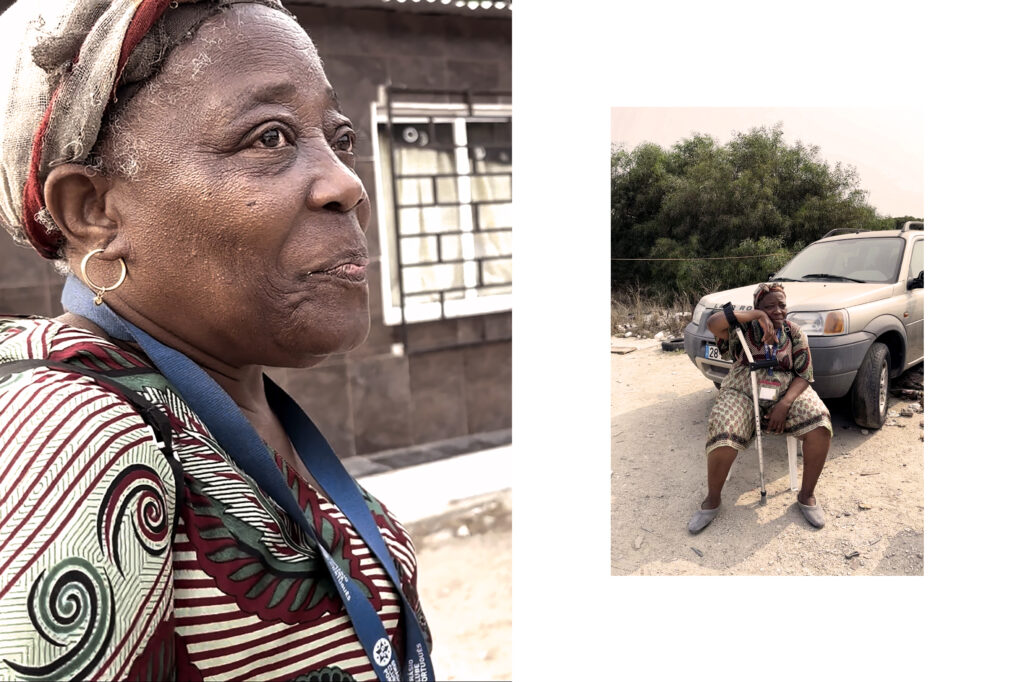 —
—
THE EXTENDED SELF
JOSEFIN DEGERSTEDT
THE EVER PRESENT EXTENSION IN MODERN TIME
THE EXTENDED SELF AND ITS ENDLESS POSSIBILITIES
OR DISABLING QUALITIES
FITTED INTO A SMALL FRAME
MY MONITOR, MY MEASURE STICK, MY LIFE LINE
A SCHAKLE
THE EXTRA LIMB AND AN INFLUENCE ON MY LIMBIC SYSTEM
TRAIN MY OWN GAZE IN SOCIAL MEDIA TO FIND THE RIGHT ANGLE
AND EVERY FLAW
SURVEILLING THE SELF, MY SELF
BE AUTHENTIC, BE PRESENT AND BE THE BEST VERSION OF YOURSELF
A SIMULATION OF SELF LOVE AND SELF WORTH
SEARCHING FOR IDENTITY, SEARCHING FOR SELF
A VALIDATION OF EXISTENCE
LOOKING FOR MYSELF AND AT MYSELF
BETWEEN LIVES, A BEFORE AND AN AFTER
LEAVING YOUTH AS THE FUTURE APPROACHES QUICKLY
A LOOK AT MYSELF AND ACCEPTING WHAT IS NO LONGER
I QUESTION WHETHER THE TECHNOLOGICAL EXTENSION TO OUR SELF IS
BENEFICIAL FOR THE RELATIONSHIP TO OURSELVES AND EACH OTHER. I WANTED
TO WORK IN CONTRAST TO THE MODERN TECHNOLOGY OF THE CELL PHONE BY
USING ANALOGUE PHOTOGRAPHY, BY NOT EDITING OUT ANY FLAWS OR CROP
OUT UNWANTED PARTS. I TOOK ONE PHOTOGRAPH, I COULD NOT SEE OR
EVALUATE IT BEFOREHAND AND I CHOSE MOMENTS WHERE I WOULD NORMALLY
NOT PHOTOGRAPH MYSELF. I WAS WORKING BY MYSELF, PHYSICALLY
DISCONNECTED BUT STILL ALWAYS CONNECTED WITH THE PHONE PRESENT IN
EVERY FRAME.
THIS IS A PERSONAL JOURNEY AND AN EXPLORATION OF SELF-PORTRAITURE. I
TOOK A LOOK AT MYSELF WHERE I AM NOW, AT AN AGE WHERE THERE IS A
BEFORE AND AN AFTER THE CELL PHONE. I WANTED TO CREATE TENSION BUT
NOTHING EXTRAORDINARY, MORE ORDINARY.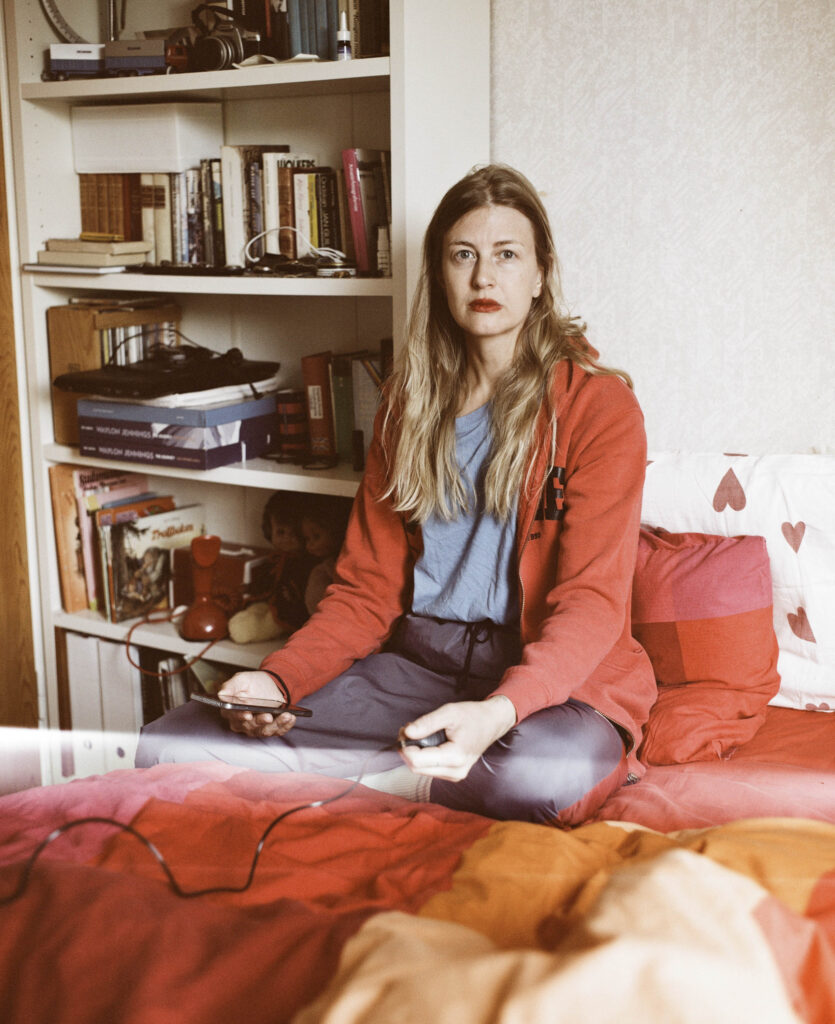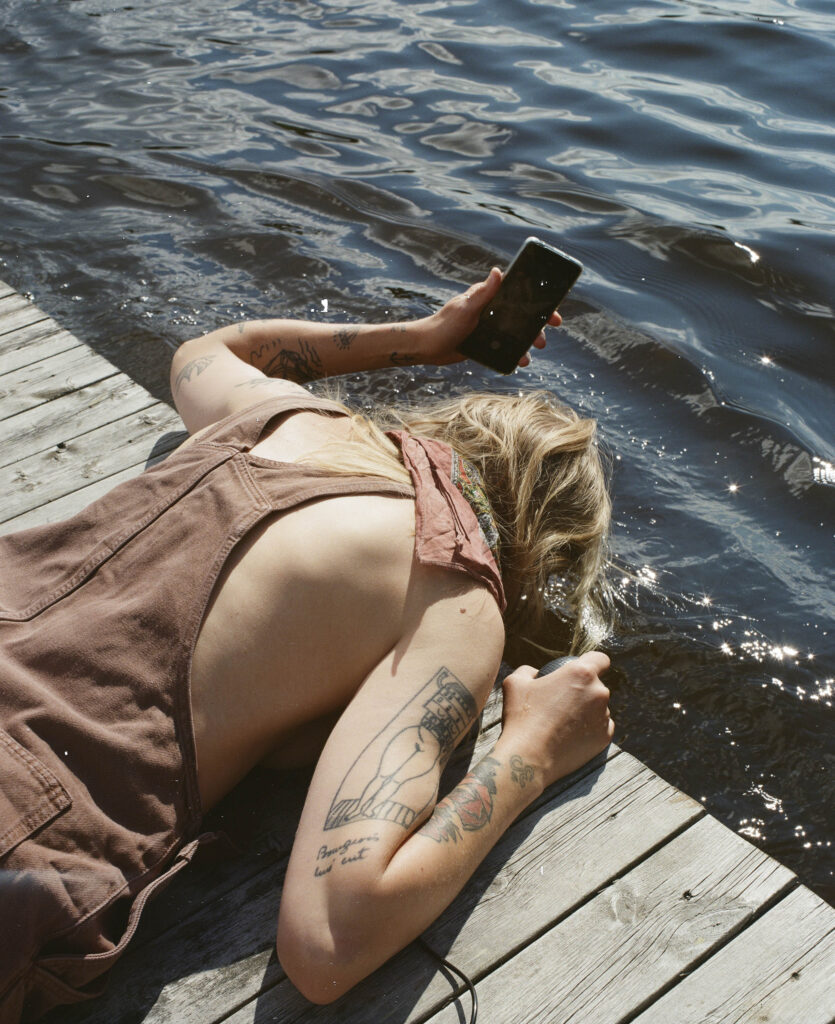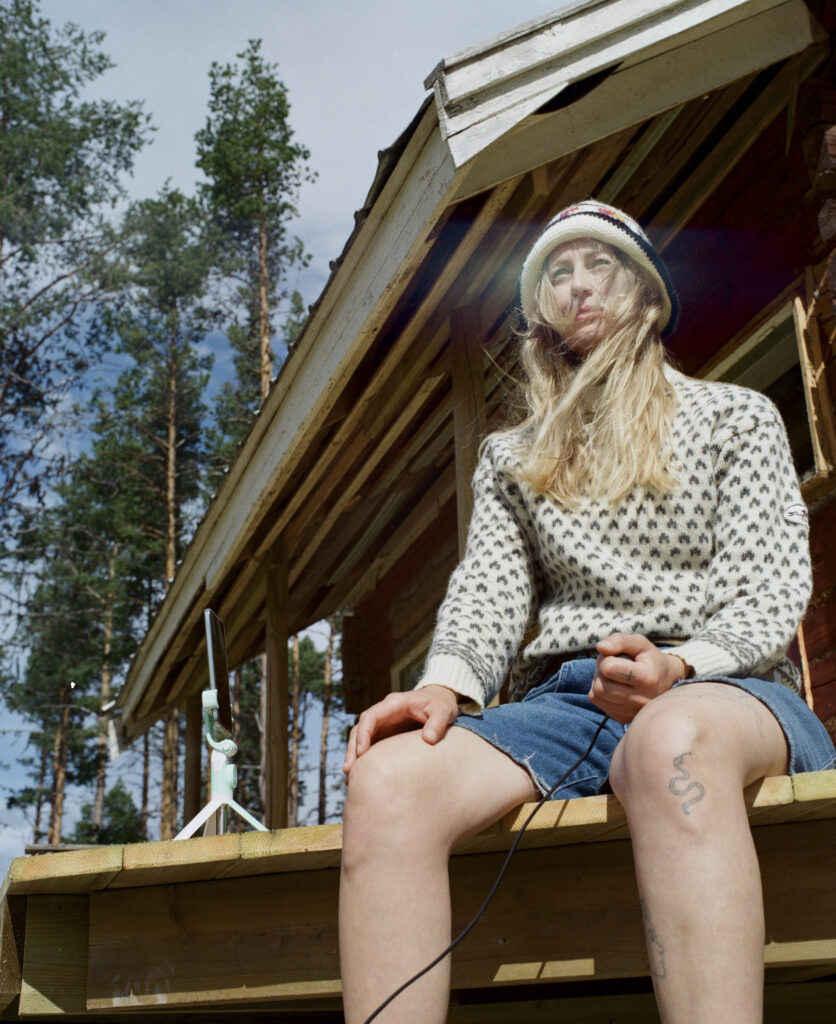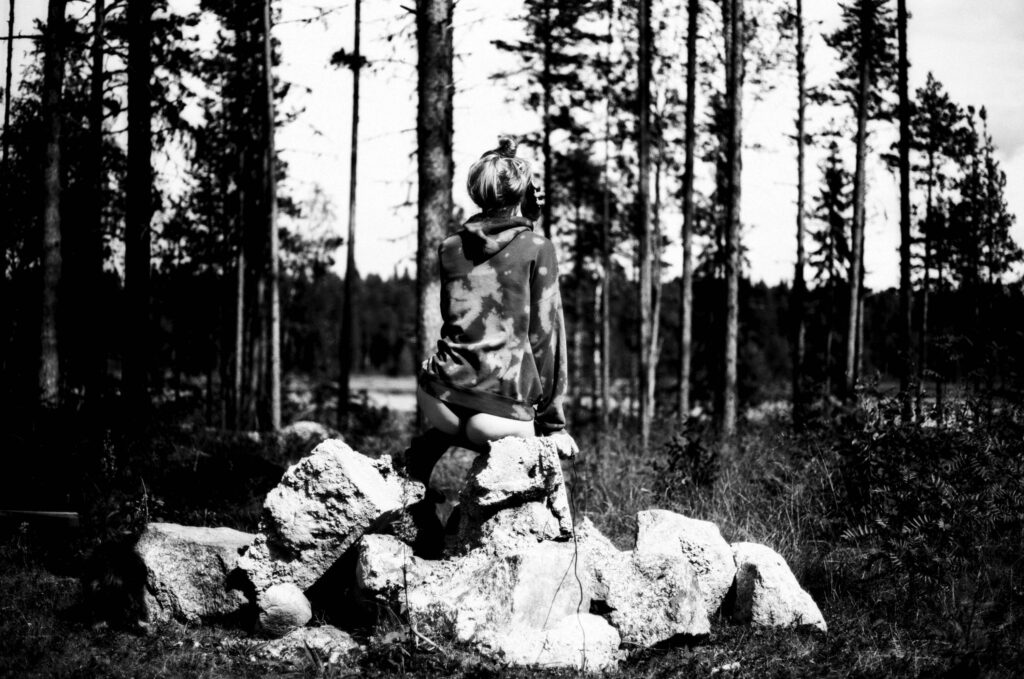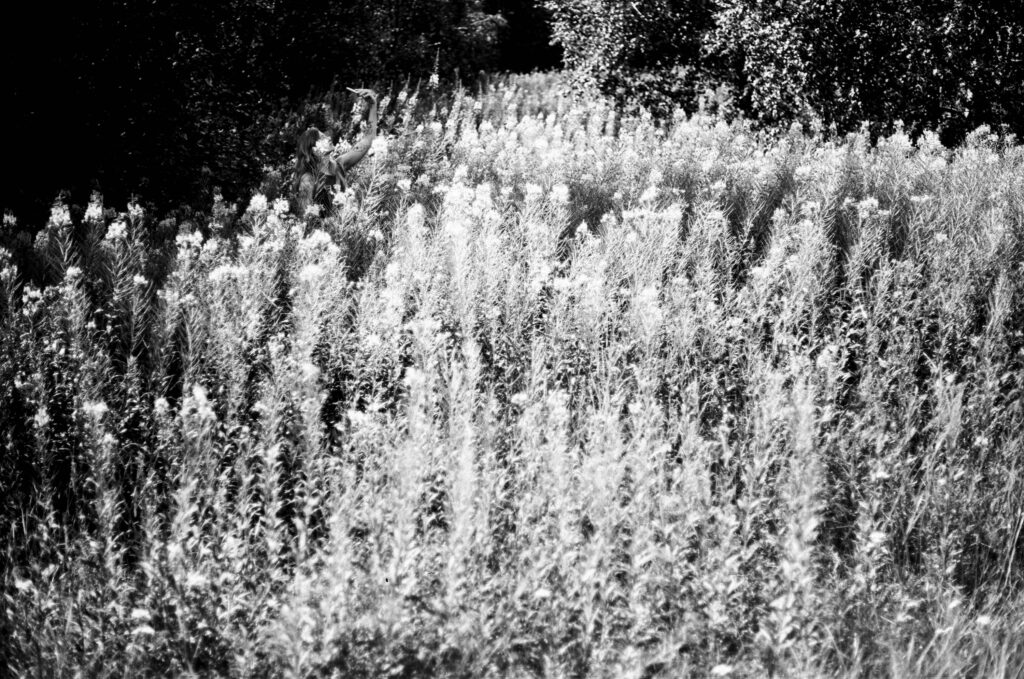 —
Moments of Relief
Still Sam
Collaborative portraits
communicating gender euphoria
Sam Nordström
Out of the personal urgency to explore feelings of joy rather than despair,
and the general urgency of queer happiness being portrayed,
Sam wants to recreate moments of relief connected to summer and
the experience of gender euphoria.
Through a series of collaborative portraits,
they interpret different versions of the euphoric experience,
consciously using the camera as a tool for community care.
Not taking the portraits, but making them, together.
Not capturing, but releasing.
Not shooting, but defending.
The collaborative process is rooted in their experience
making custom tattoos. 
Based on conversation, multiple sessions and research,
the goal is to understand the sitter's visions for the work
being made.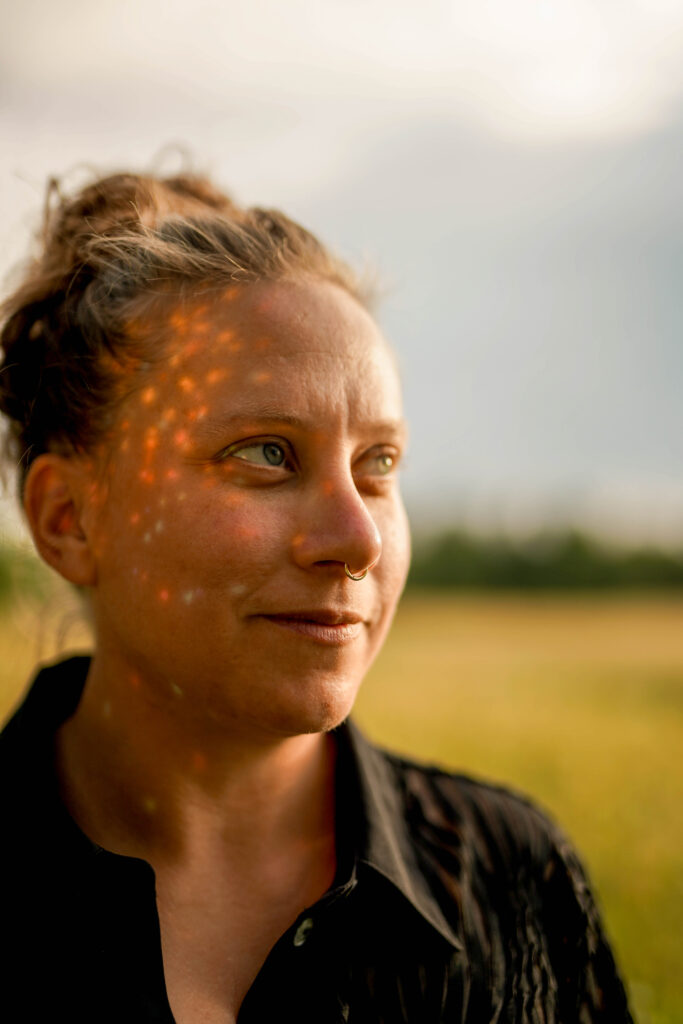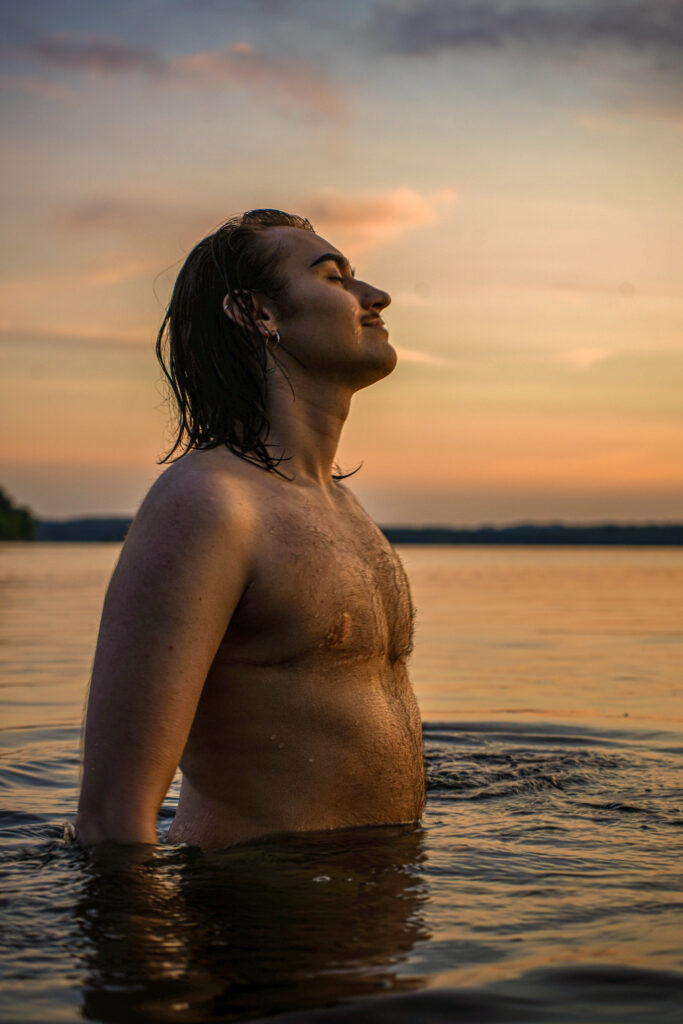 Do not go gentle into that One Art
As a statement, and against popular belief,
here's my perspective on the debate:
We're a community in need of relief!
I'm Still Sam and I'll try to be brief;
Pressured by my current state,
lacking both direction and self-belief,
I desperately searched for a leitmotif.
I looked for tools to re-shape my fate,
and in re-creating euphoria I sensed the relief.
I used photography to escape my grief,
I realized I needed to collaborate,
working together meant gaining belief.
I haven't yet conquered my own disbelief,
that my work could inspire, and instigate,
more work from others, spreading relief!
And it's not entirely without feelings of mischief,
that I'm handing this poem in, rather late.
You have lit me and strengthened my self-belief,
butt since you won't have me, here's my relief.
'Moments of Relief' is a prequel to the forth-going project 'Stories of Relief',
where each of these moments of relief are elaborated on and become chapters in a bigger story.
There's still space for more collaborations. Connect with me!
Thanks for looking!
—
White Eye
Isak Löwegren
White Eye was photographed in Norrbotten and Malmö the summer of 2023, perhaps the first year where extreme weather caused by climate change took place in Scandinavia. A meditation on heat and light, the sun serves as the unseen main figure in the work. As the dictator of any and all human activity, the sun takes on almost folkloric qualities. We are dependent on it, yet we are not even close to coming to terms with it, not even seeing it. Dwelling in its radiation — becoming sundazed — is both exhausting and intoxicating. While obscuring the global aspects of sunshine, this iteration of White Eye instead concerns a subjective understanding of life in heat.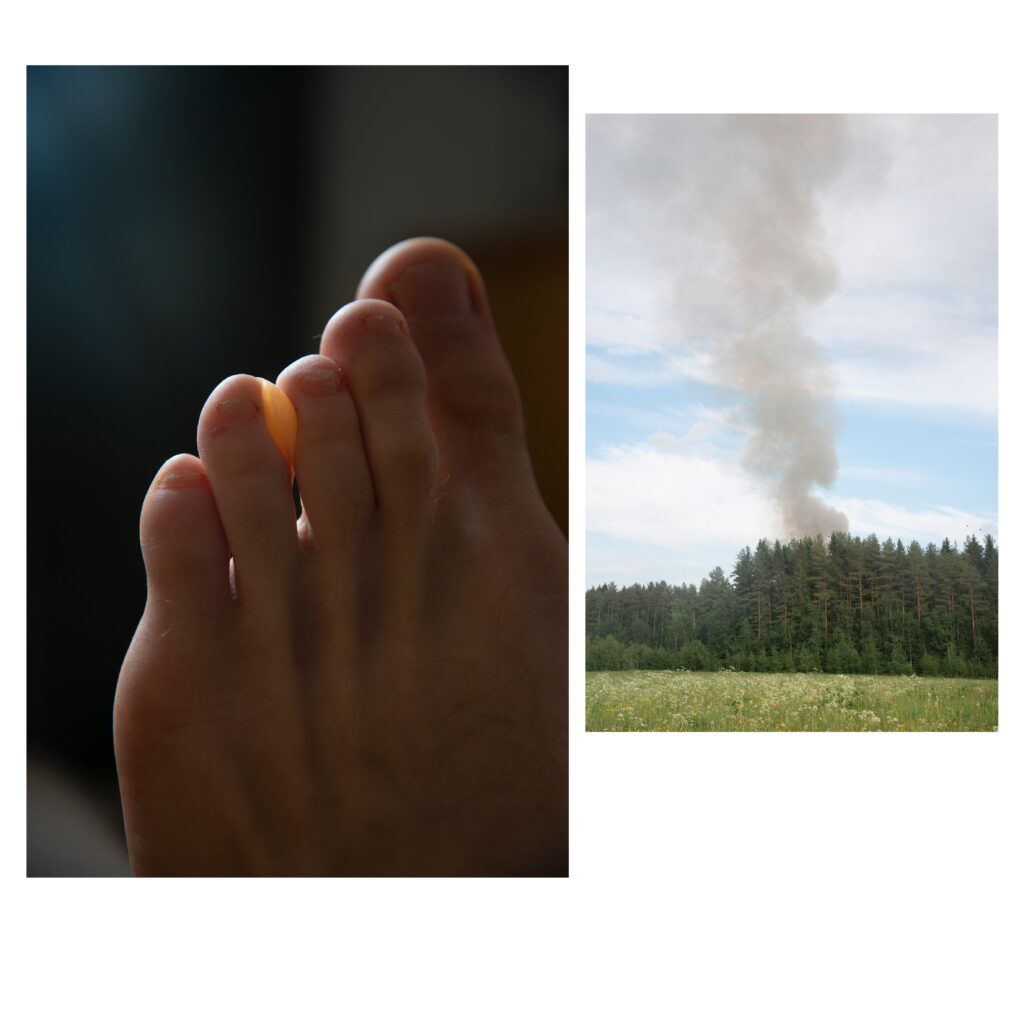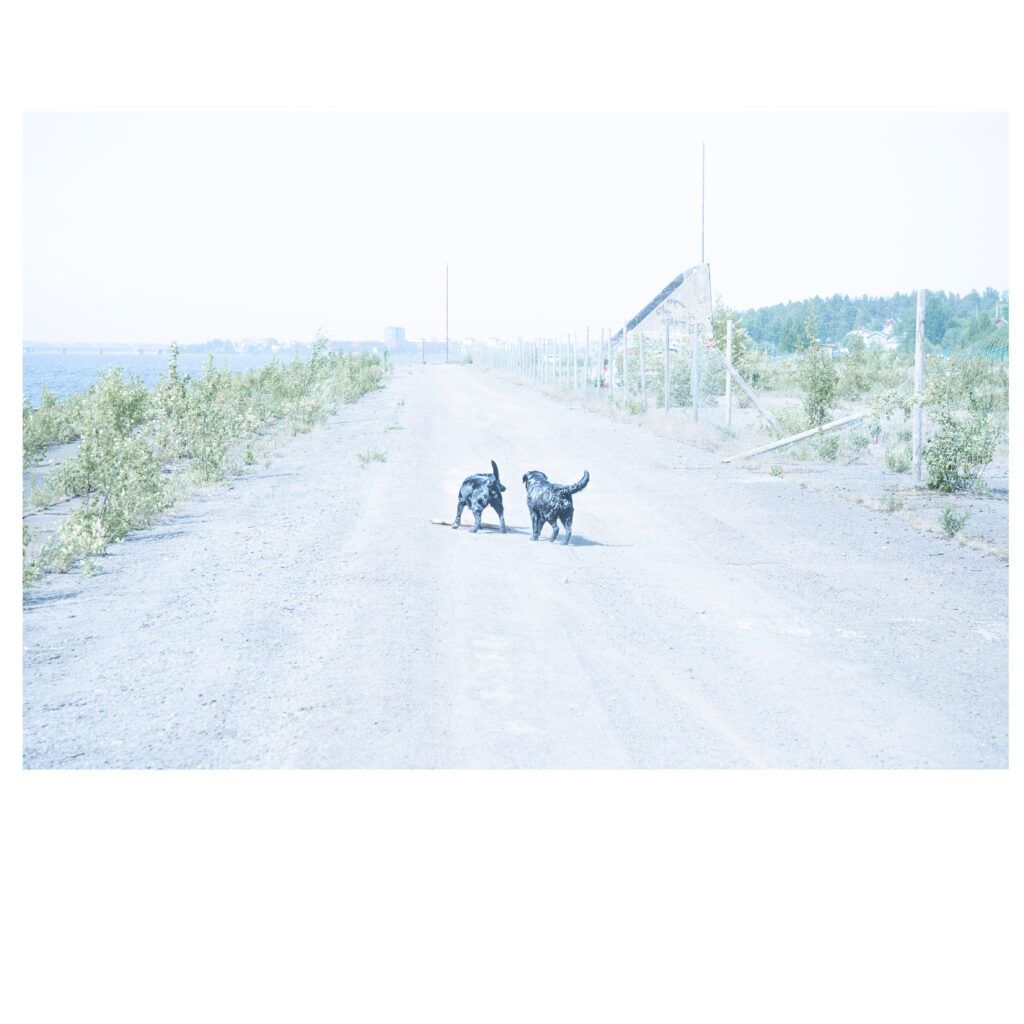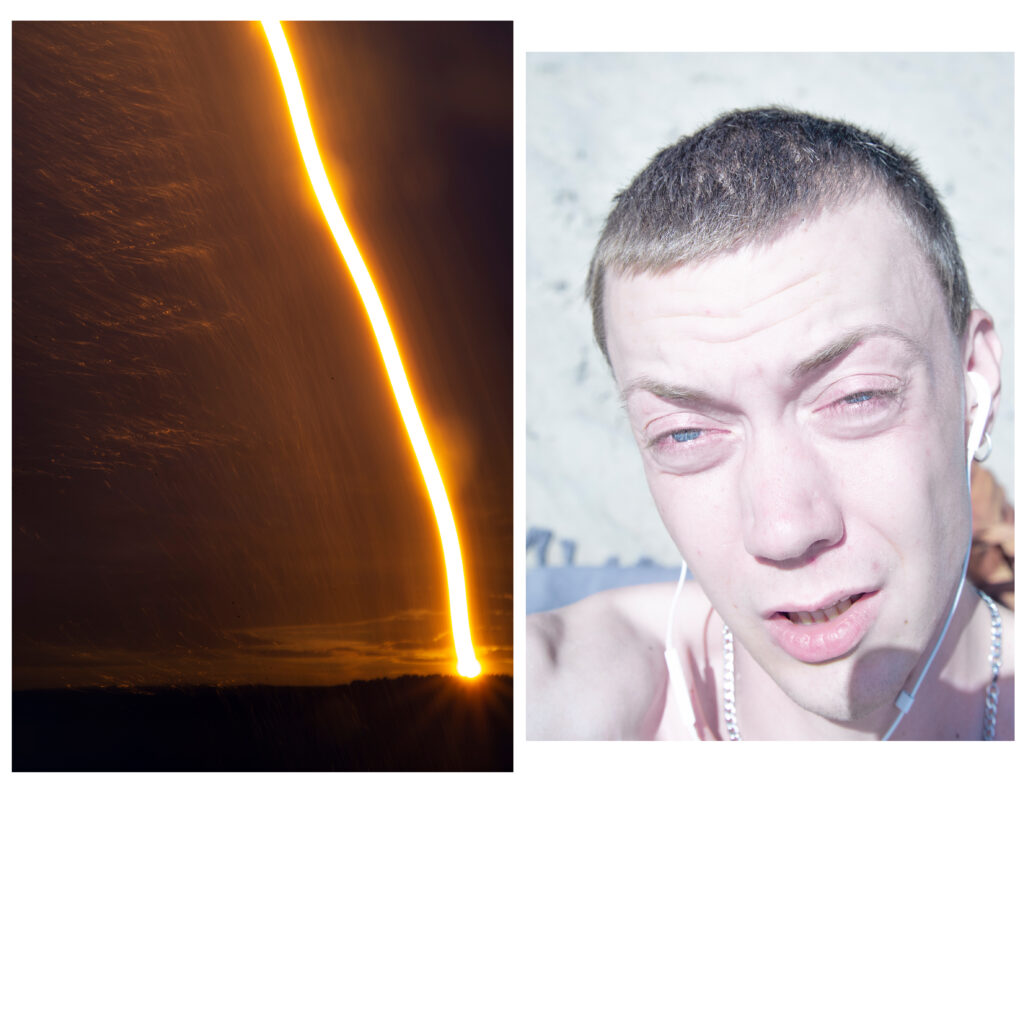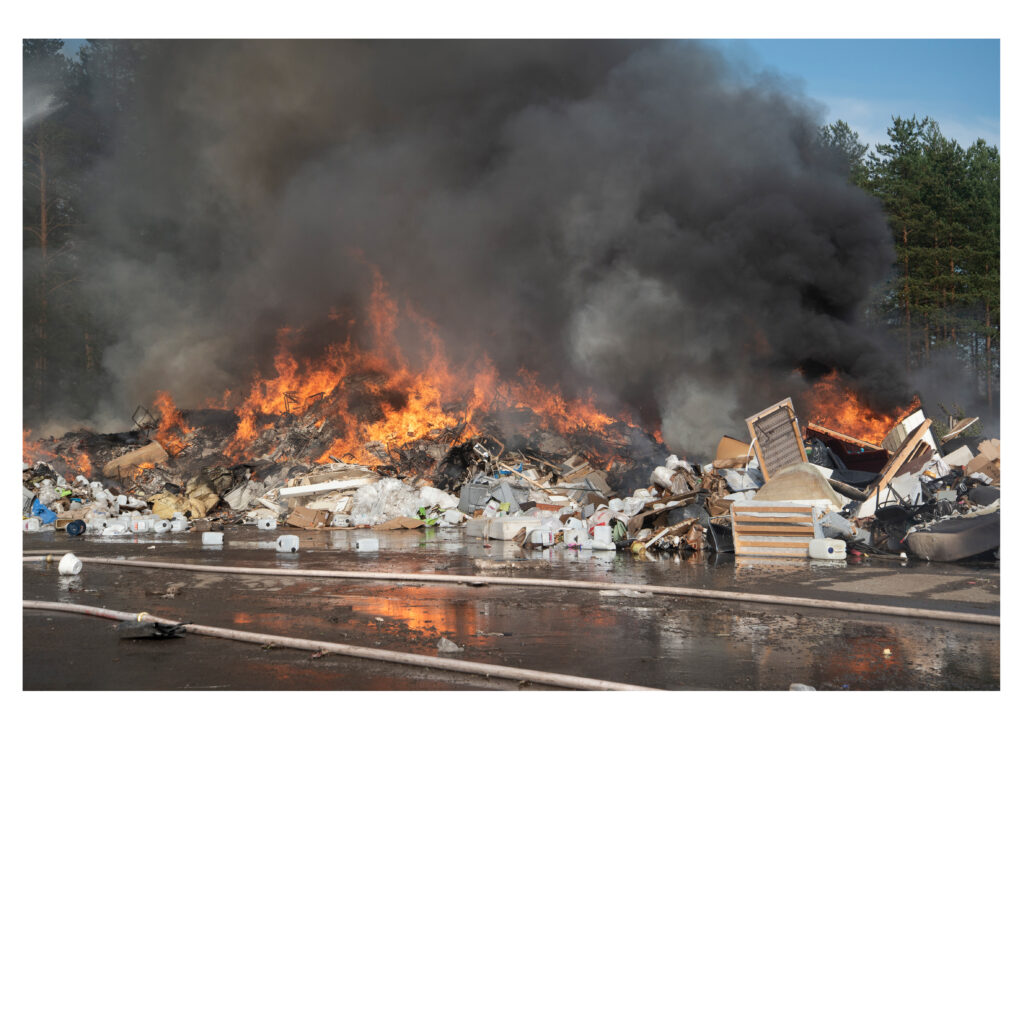 —
brasilien är bättre
Cecília Tümler
'brasilien är bättre' explores diasporic existences in their glitch character. This means an investigation of the subversion of error entailed in being an immigrant and constituting life away from place of birth. This error, this glitch in the matrix of illiberal thought, offers suffering, contradictions, but also opportunities to recreate systems and, perhaps, societal structures.
Born out of the experience of immigrating from Brazil to Sweden, the project looks at a series of sharp contrasts that go from economic inequalities to the colour contrasts of the natural environments, cities and clothes. In Sweden such dissonances with the Latin American country stand out ever-clearer in the toned-down atmosphere. Coupling such sensations with the theoretical and lived experienced of the glitch, the visual investigation is guided by how a Brazilian community absorbs and relives the Swedish clichés, scratching the surface of an experienced indifference through the portrayal of anonymity.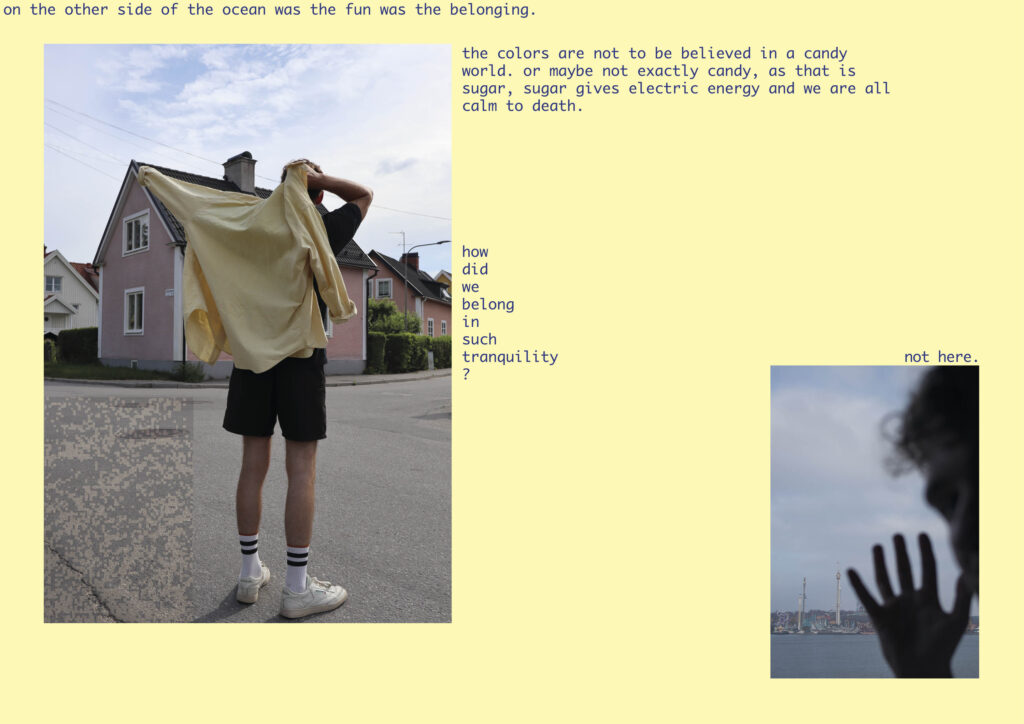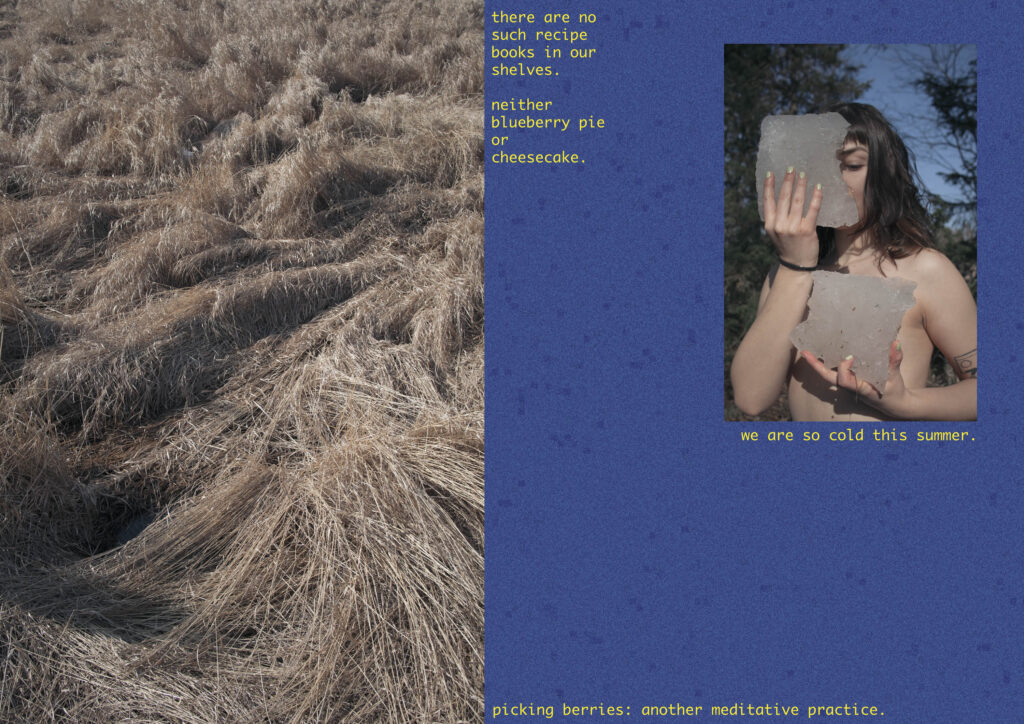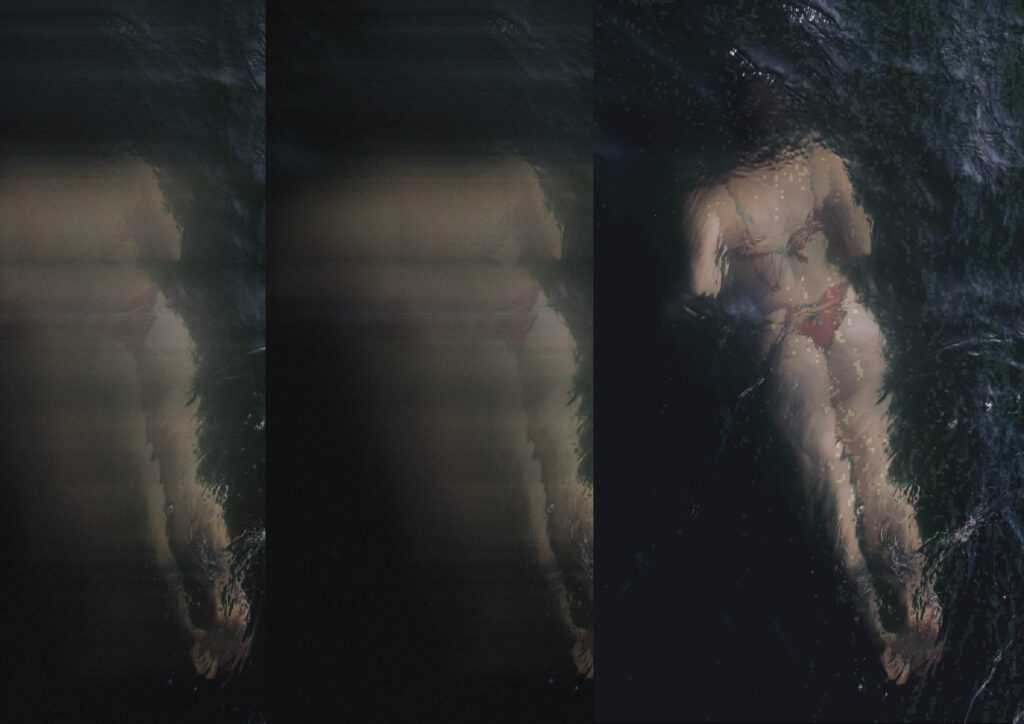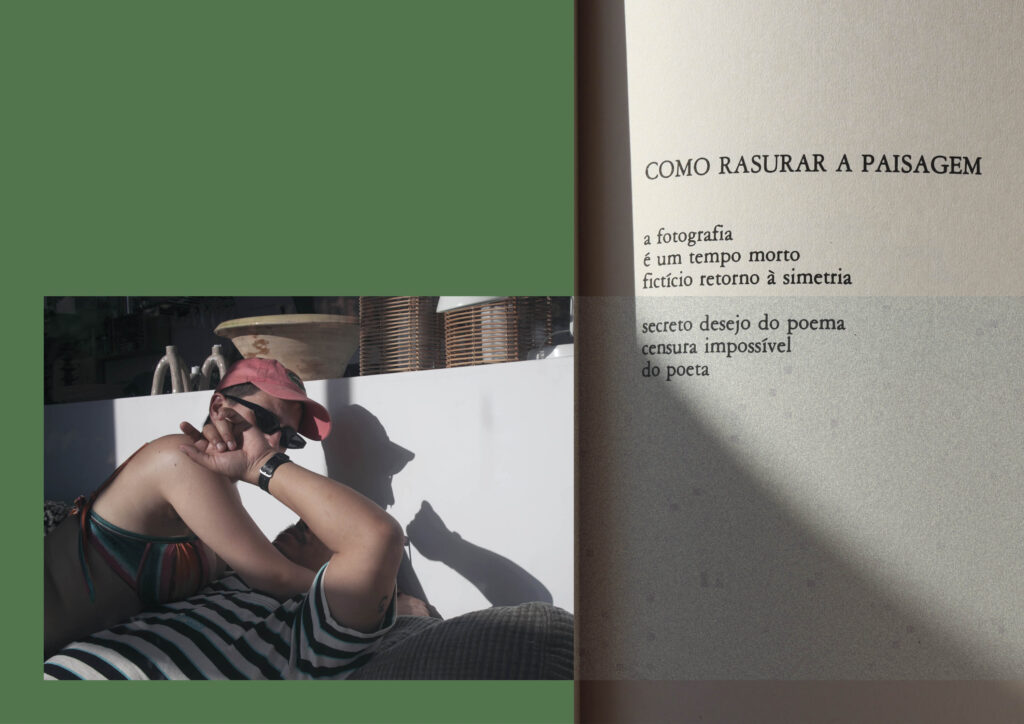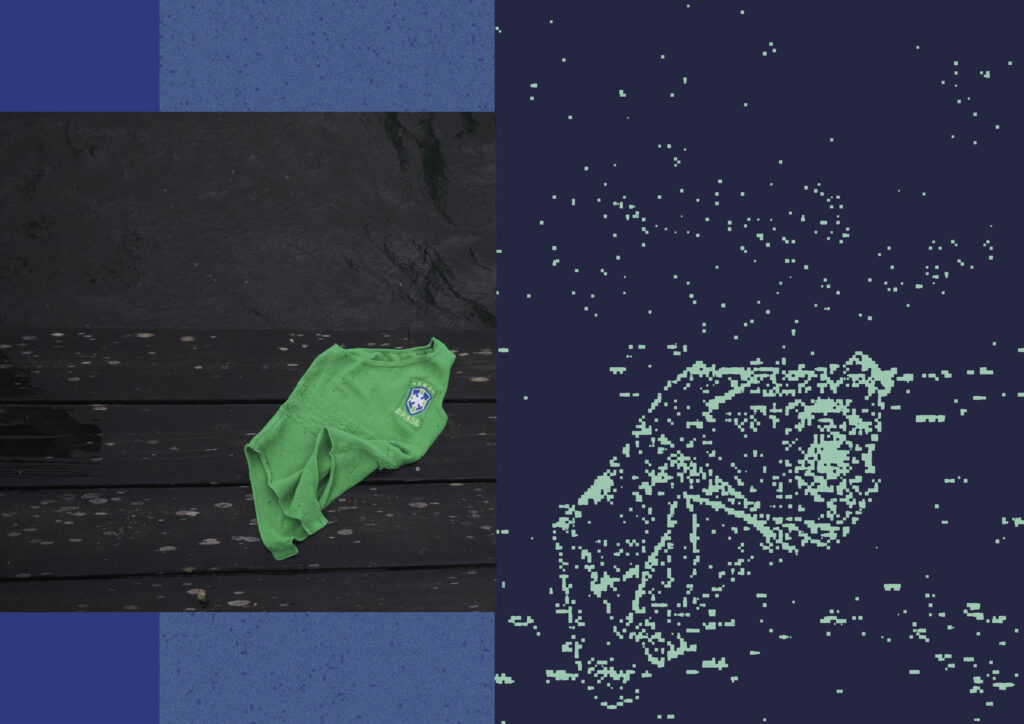 —
Vacant vision
Erika Buckard
My intention with this project is to show how I sense vacancy, and the period in between that occurs when a tenant leaves a space, and no one is there immediately to take over and move in. I am photographing to capture the visible signals and cues that empty locations are transmitting. My practice is repetitive, I work close and at range. I am also experimenting with the idea that I am standing at a vacant space with a torch light pointing into the scene. For me to add a light source creates a possibility to get closer and maybe unravel more. My light source is subtle. The observer may see it or not. Maybe it was never there.
I have chosen five vacant places in Västra hamnen. All situated in so called attractive locations. In the map of Västra hamnen I have marked the sites and added the number of vacant days per 2023 August 15.
Along with taking pictures I have studied and read publications concerning the development and planning of Västra Hamnen dated from the beginning of 2000 till now. Published and written both by the municipality and private actors.
The introduction of the images for each vacant location is done by a cut out from a description of a nearby area like a park or something said in media by the leaving tenant connected to the place.
My intention is to play around with the original meaning of a word and question what a word really means in a certain context, for example environment. Is it climate change or is it what surrounds our space of living? I search for both contradictions and new angles of approach.






—
Slow Flowing Water
Sofia Blomquist
Throughout the ages, water has fascinated mankind. A fearful delight from puddles to black lakes with muddy bottoms; water in different forms such as running, stagnant, clean, dirty, from above, from below. Water is all around us. What is hidden beneath the surface? Sometimes it is possible to see through the surface and other times what is under the surface is obscured by the reflections in the water.
In this interpretation, the viewer visits the pond with its unique vegetation and inhabitants. Some of the images are rooted in traditional fairy tales and legends, others in the photographer's imagination.
Near the red bridge you can meet the Brook Horse and in the reflections of the stream you can see the Water Spirits. If you are lucky, you can meet a water spirit if you gently touch the surface of the water.
With this project, Blomquist wants all children and adults to open their eyes and turn on their imagination. What do you see when you let your imagination flow like water? You never know what you might find in our amazing nature.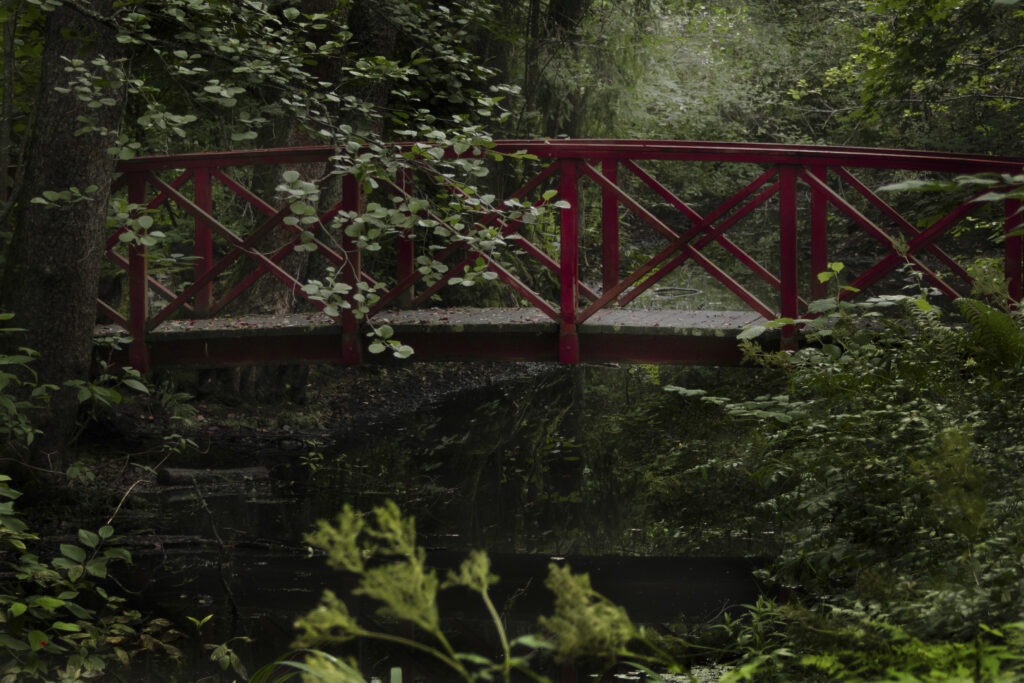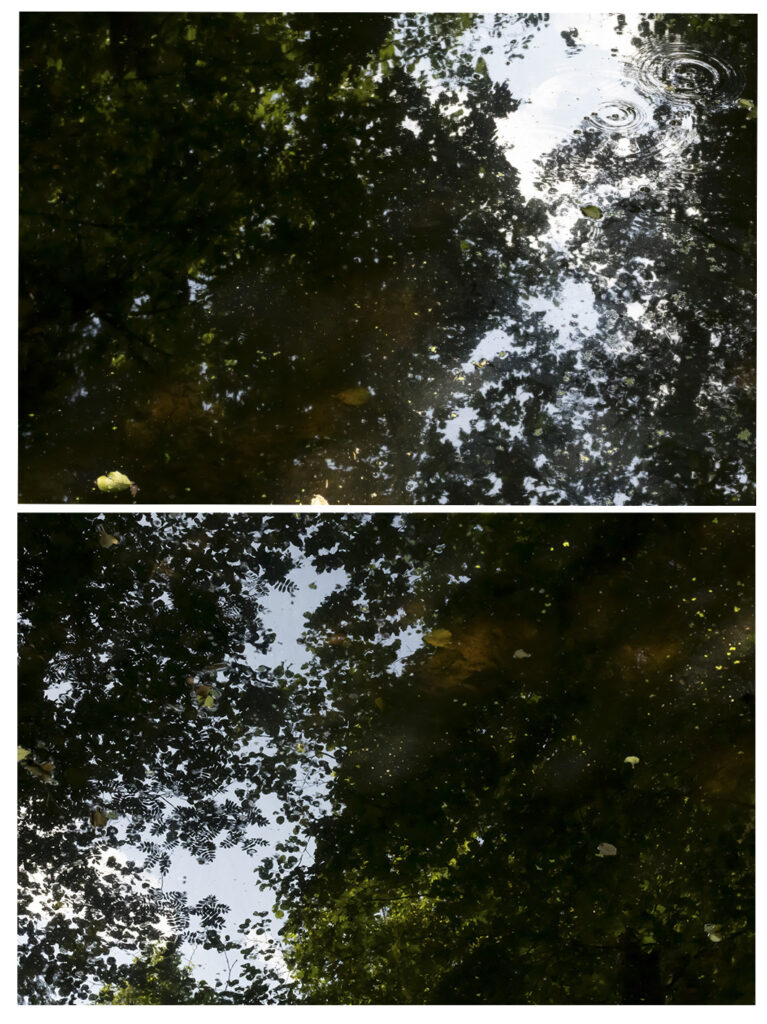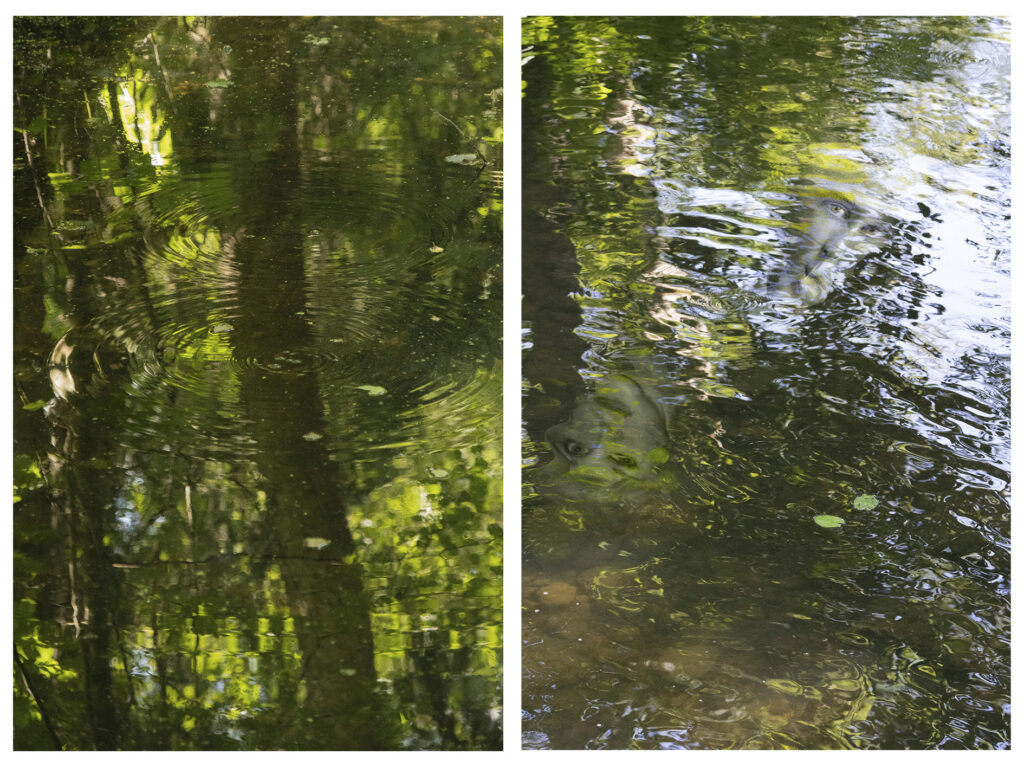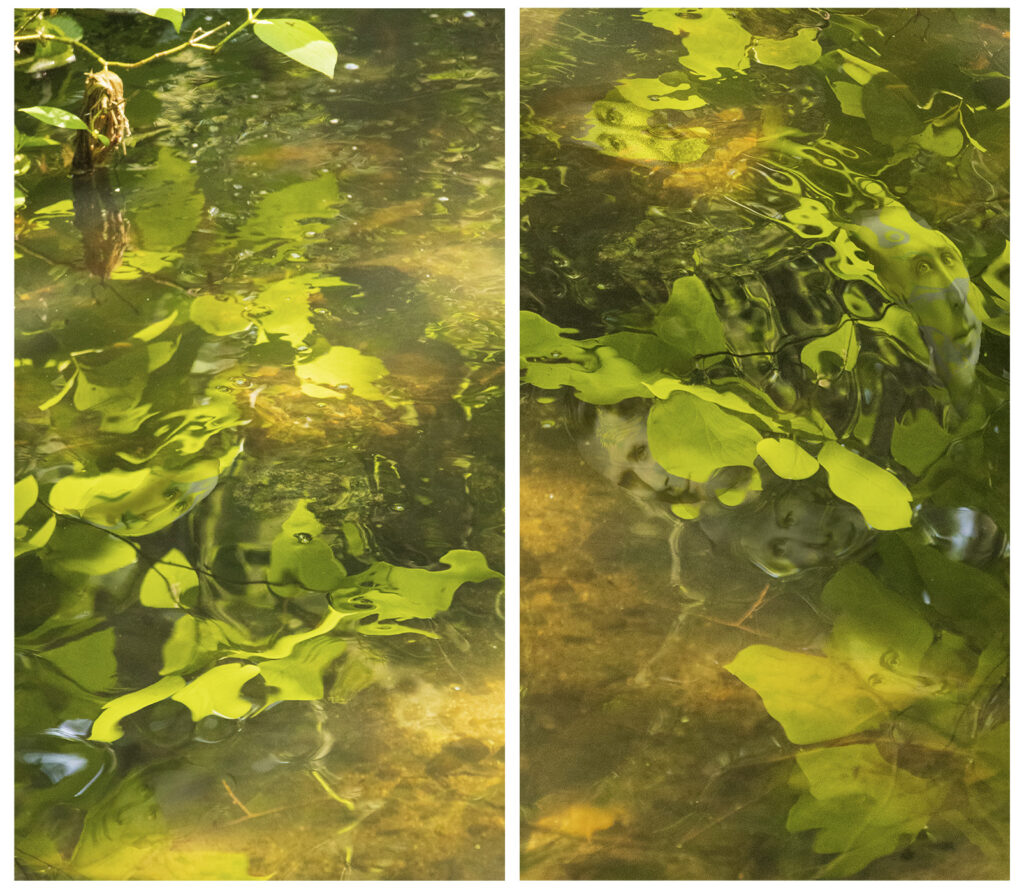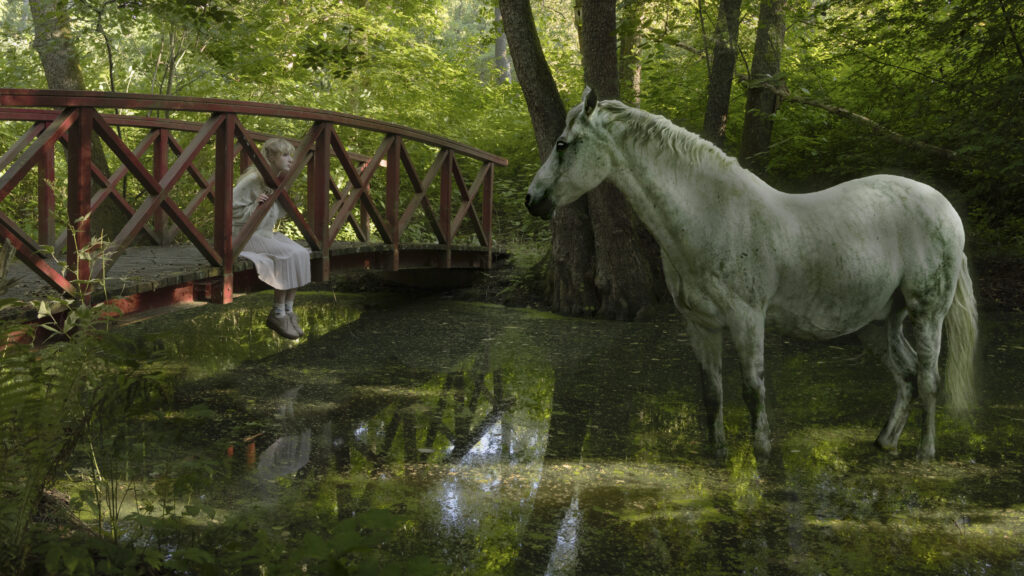 —
STICKY
Lindsay Baker
Sticky is a collection of imagery created from digitally manipulated and collaged photographs. Residue of play, childhood, food, filth, and repetitive tasks glom together to form a new and dizzying world — one that is colorful, playful, sometimes repulsive, and silly. The maximalist vision within can be enjoyable and also overwhelming as there are too many things to look at and monitor like a misprinted kid's seek-and-find book where you have no guidance about what to seek or find or why.
This series of photographs by Lindsay Baker is an attempt at visualizing her experience with parenthood. After Baker had her second child, inner and outer worlds both became more chaotic. Baker summarizes,"I felt out-of-control and helpless in a way I never had before. Every day felt like a new encounter with impossibility — how could I meet both of my kids' needs and my own physical needs (going to the bathroom, eating, drinking water, etc.) let alone anything beyond that? I struggled with my physical and mental health all while scrambling to keep up with slicing snacks, making meals and keeping things clean-ish." Baker's project attempts to take the anxiety related to present-day Western motherhood and use it as inspiration for art-making. Through these playful photo-based collages, she takes what causes her stress and re-organizes those elements into a comical, swirling and sticky mess.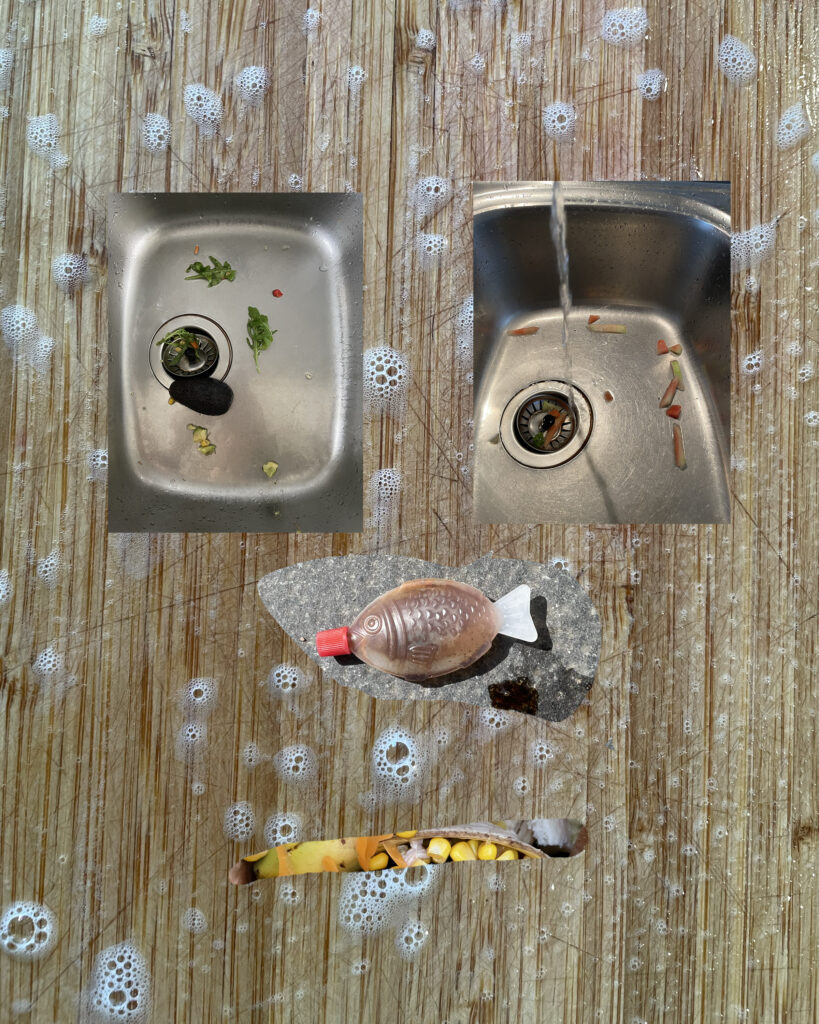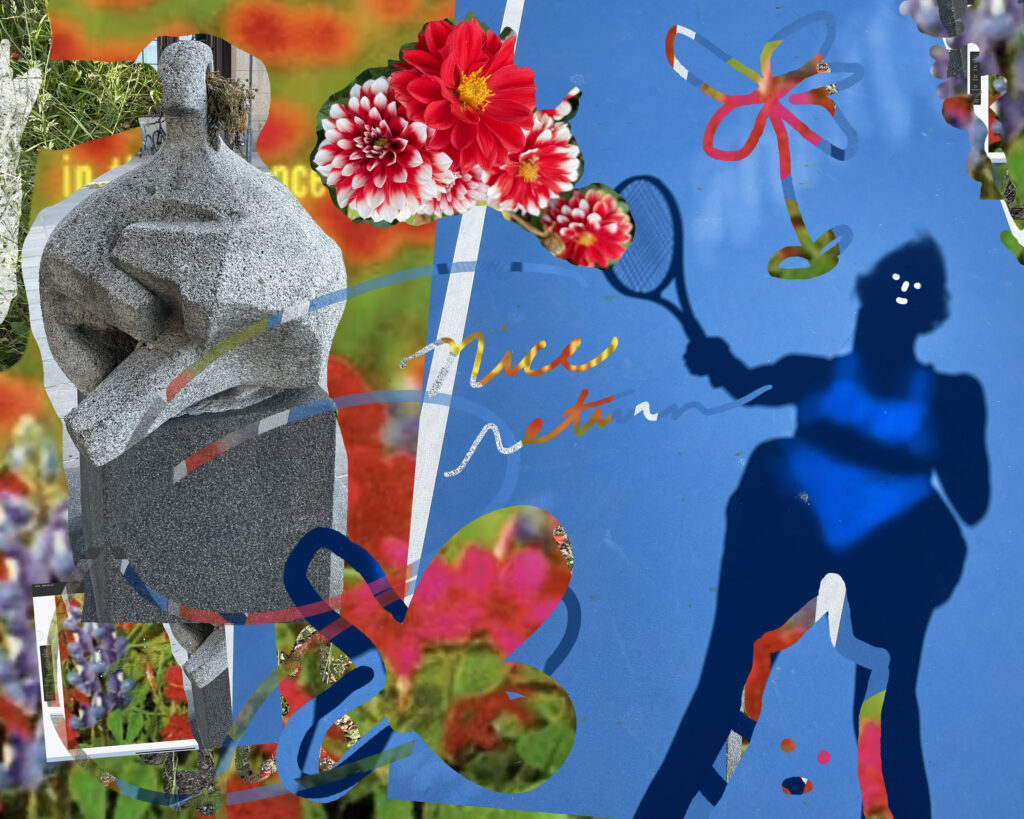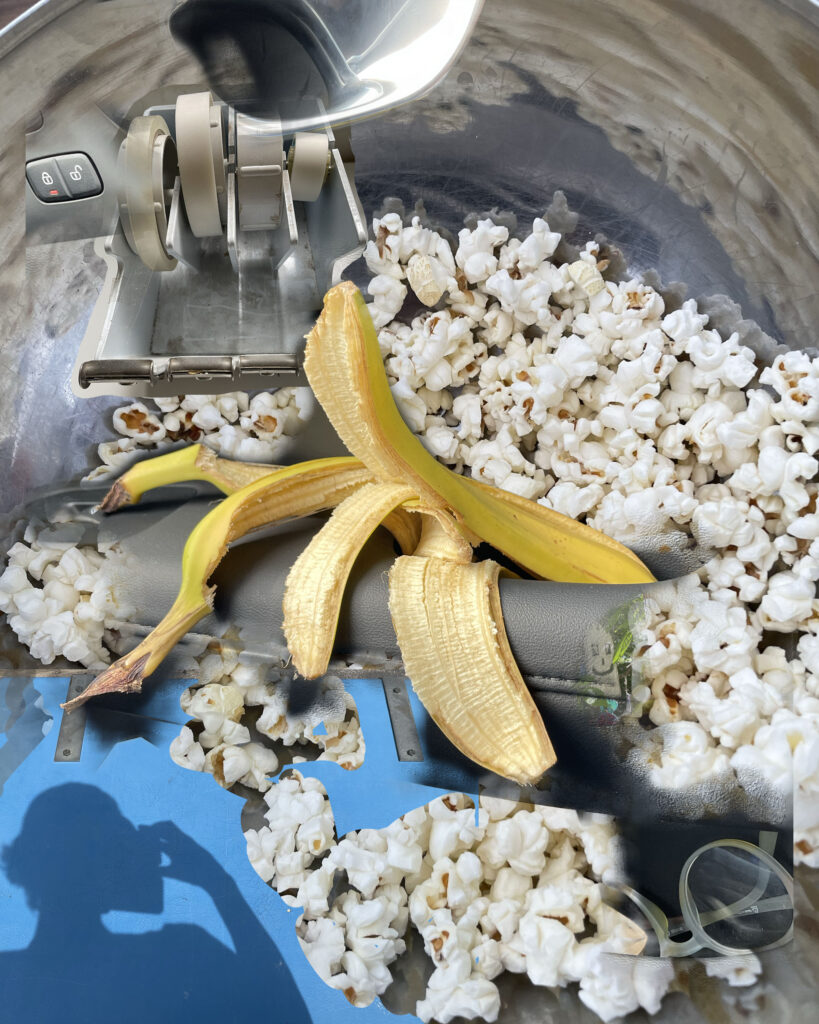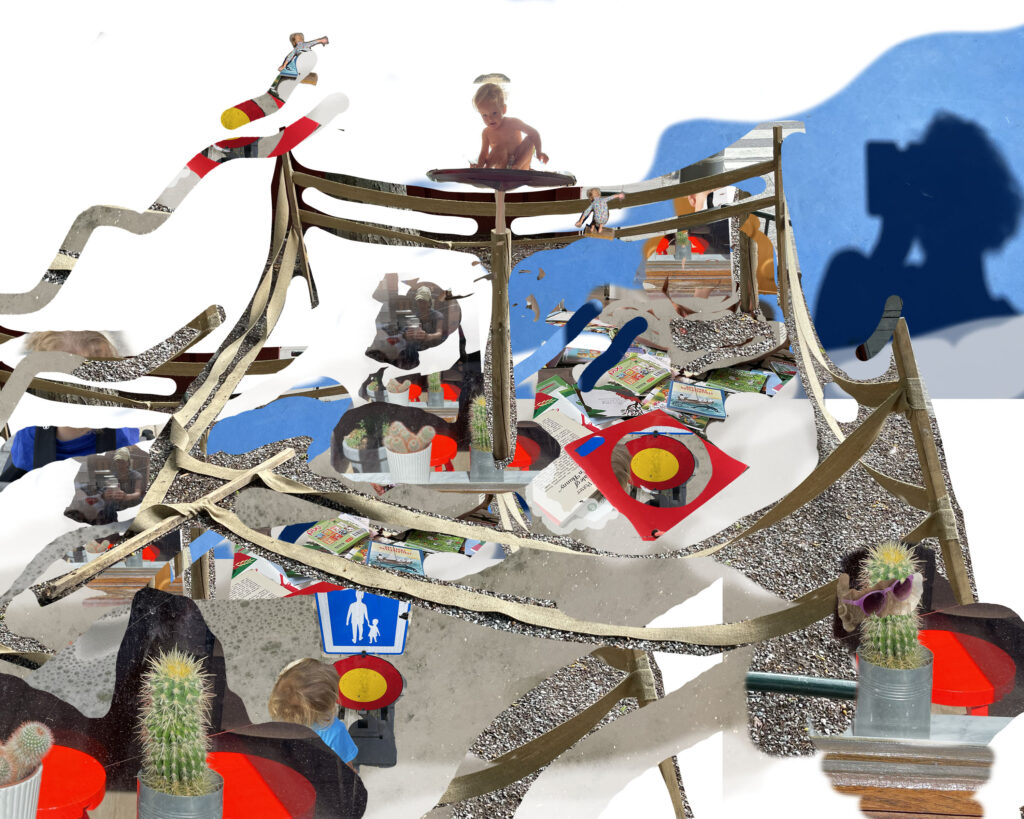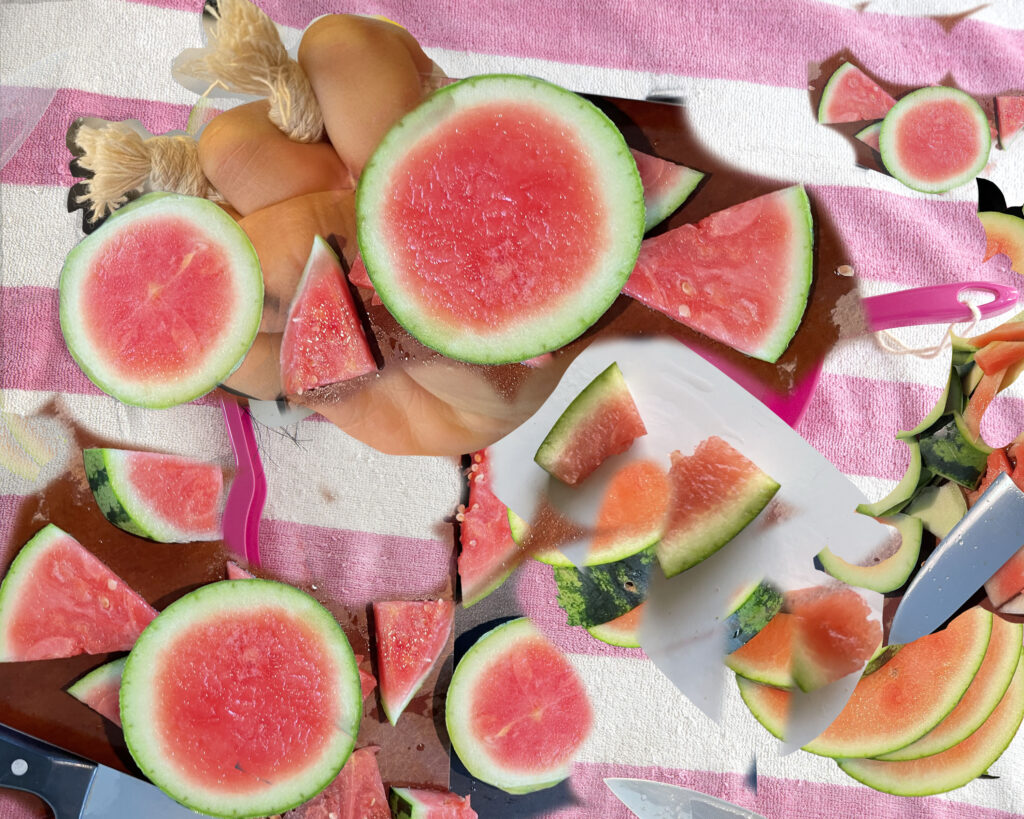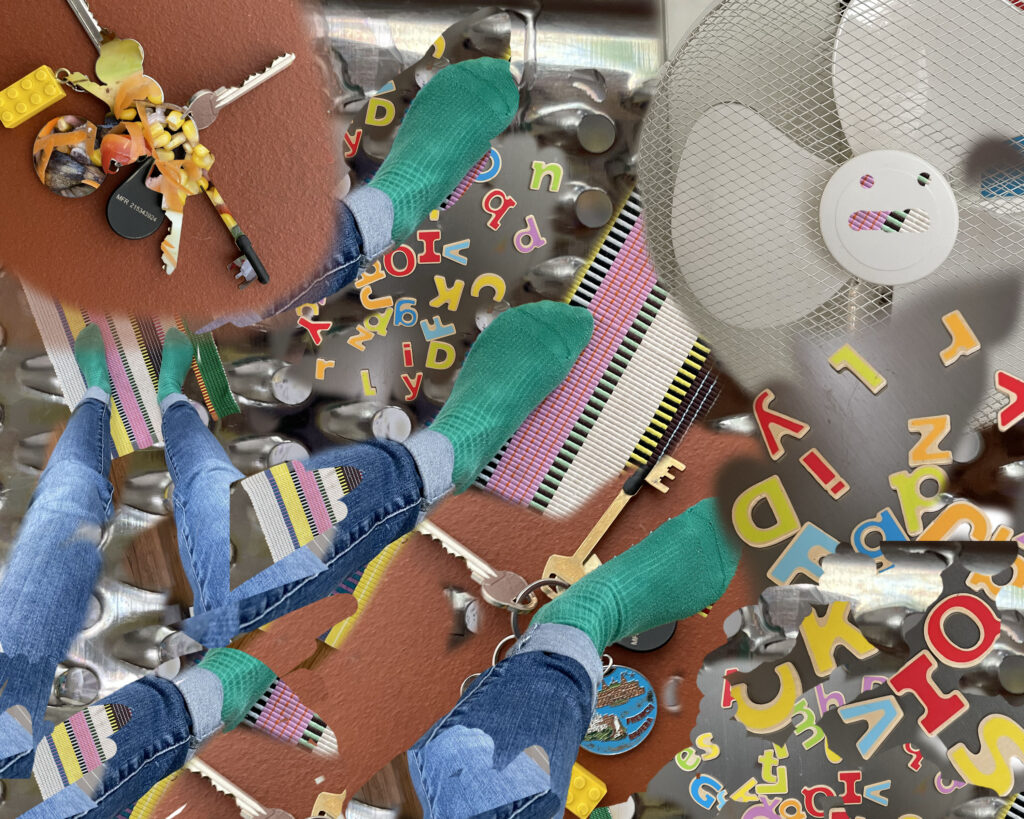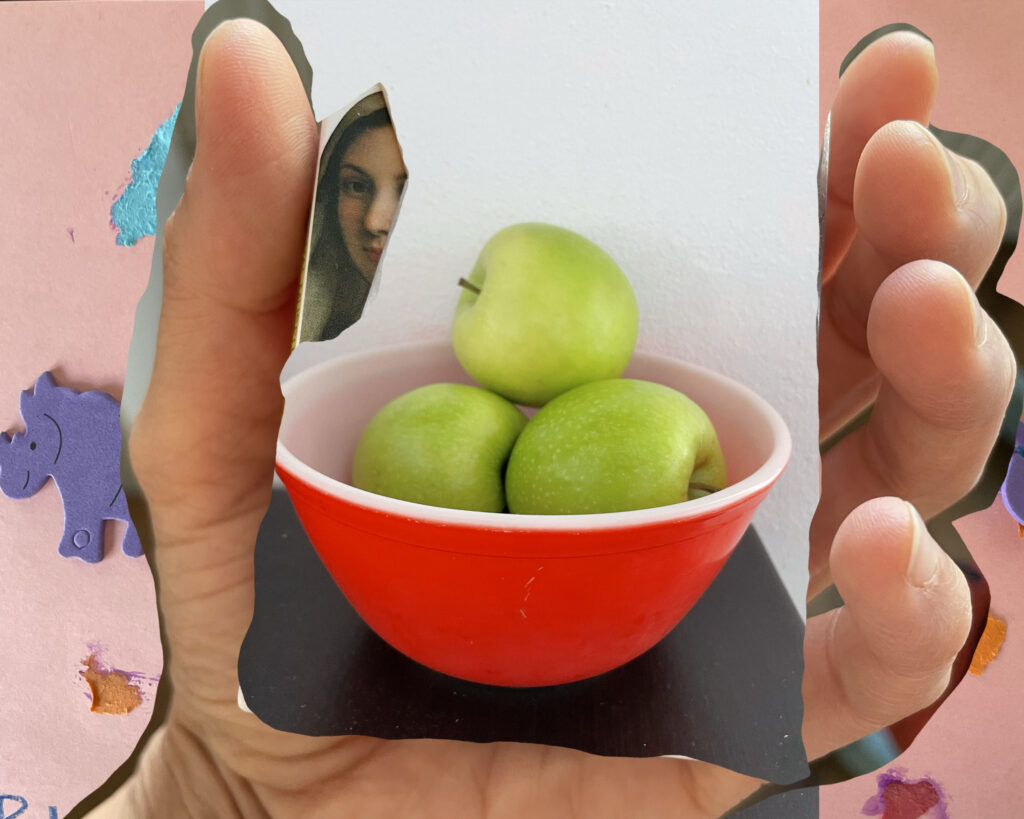 —
Who rules?
-In the name of art
Ewa Andinsson
My intention with this work is to start from my hometown Gothenburg and raise the question: Which institutions influence the contemporary art scene in Gothenburg?
The first image is an overview image of Gothenburg taken from Google Map and together with a short text it introduces my project. The project consists of classic black and white analog photographs where the entrances to eight of the city's major players have been photographed. Of course, there are many more art institutions in the city, but in my project these eight represent the different types of institutions that influence the supply of contemporary art in Gothenburg.
I have chosen to photograph all the entrances closed, which can also be seen in the context of an art world consisting of both closed spaces where only a selection is allowed access as well as open spaces that welcome everyone.
The expanded version of the project includes QR codes that direct the viewer to the Google map location of each institution. In this way, the viewer can find out where these institutions are in the city, but also see their own position in relation to the actor's location. The purpose of the QR code is also to show the place of art in the city space, that art is part of our society and has great significance for how people experience the city.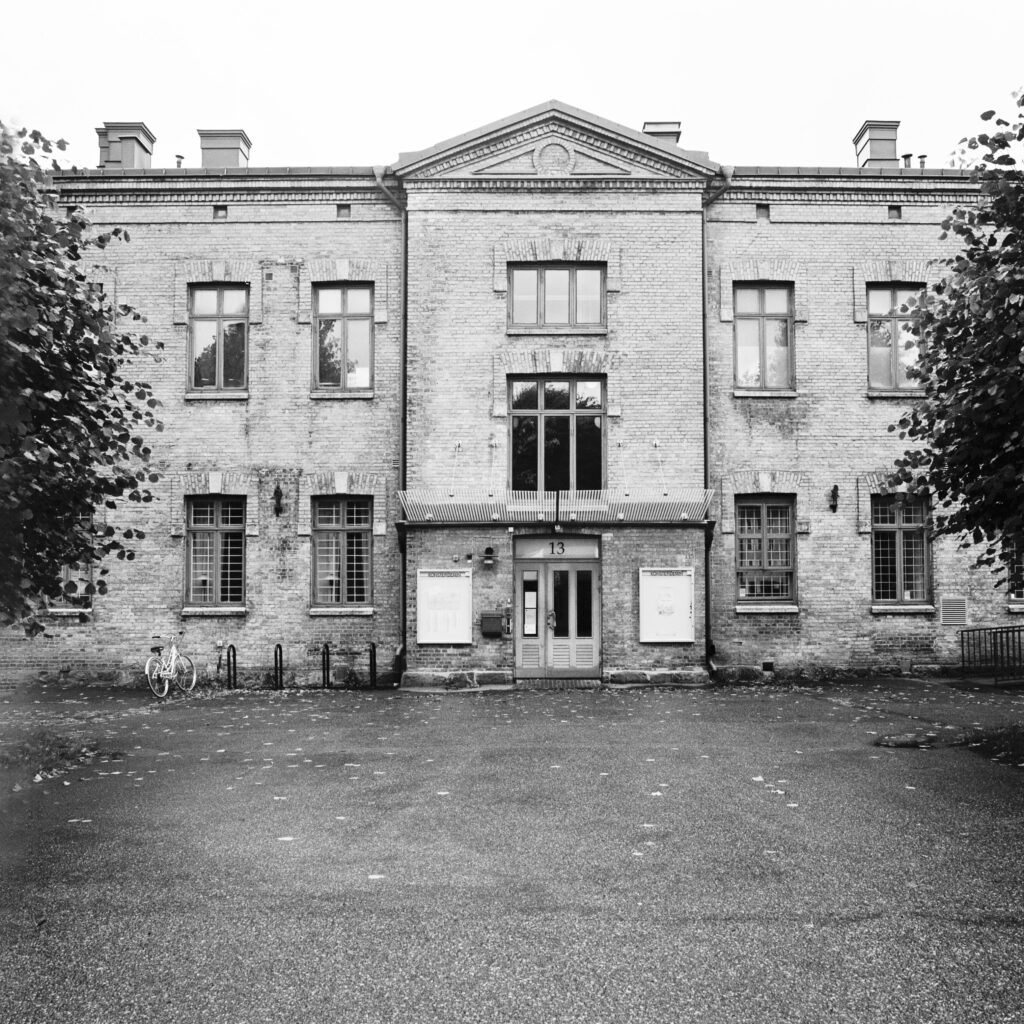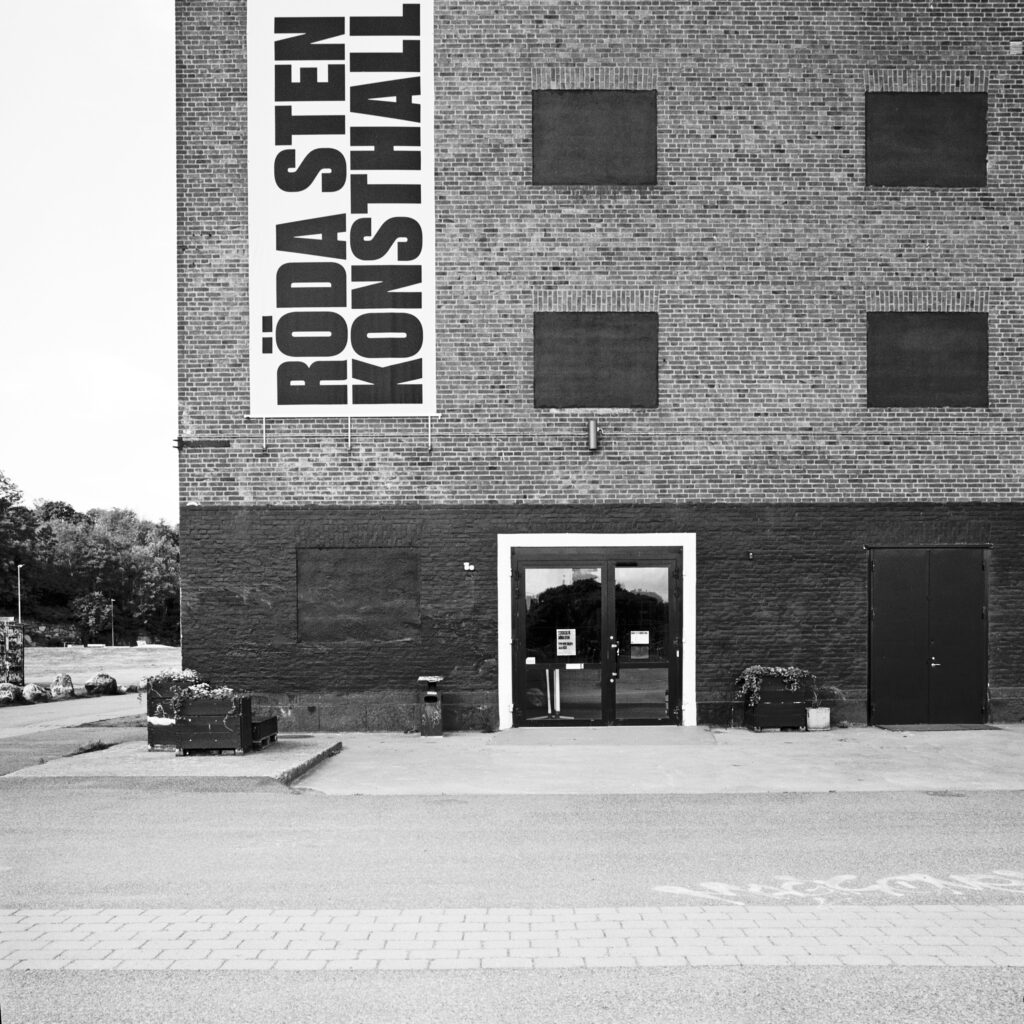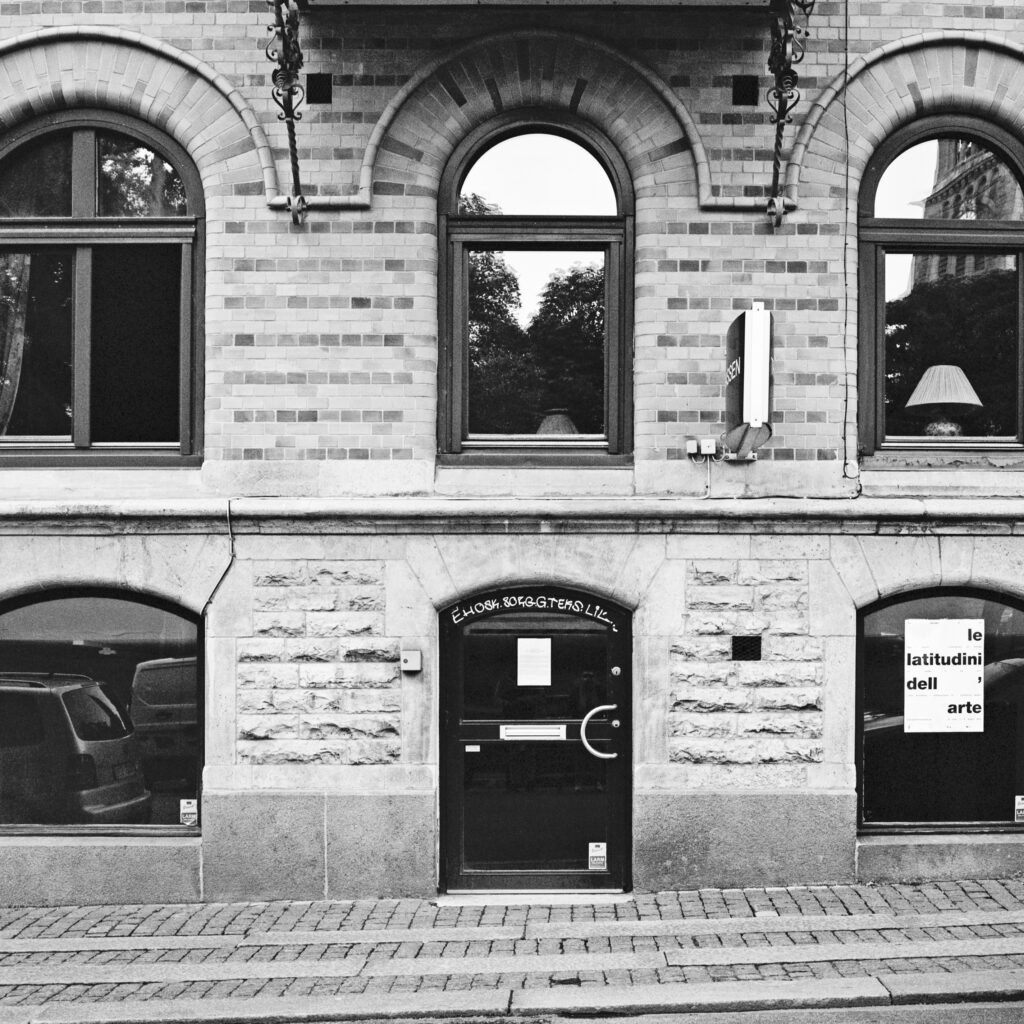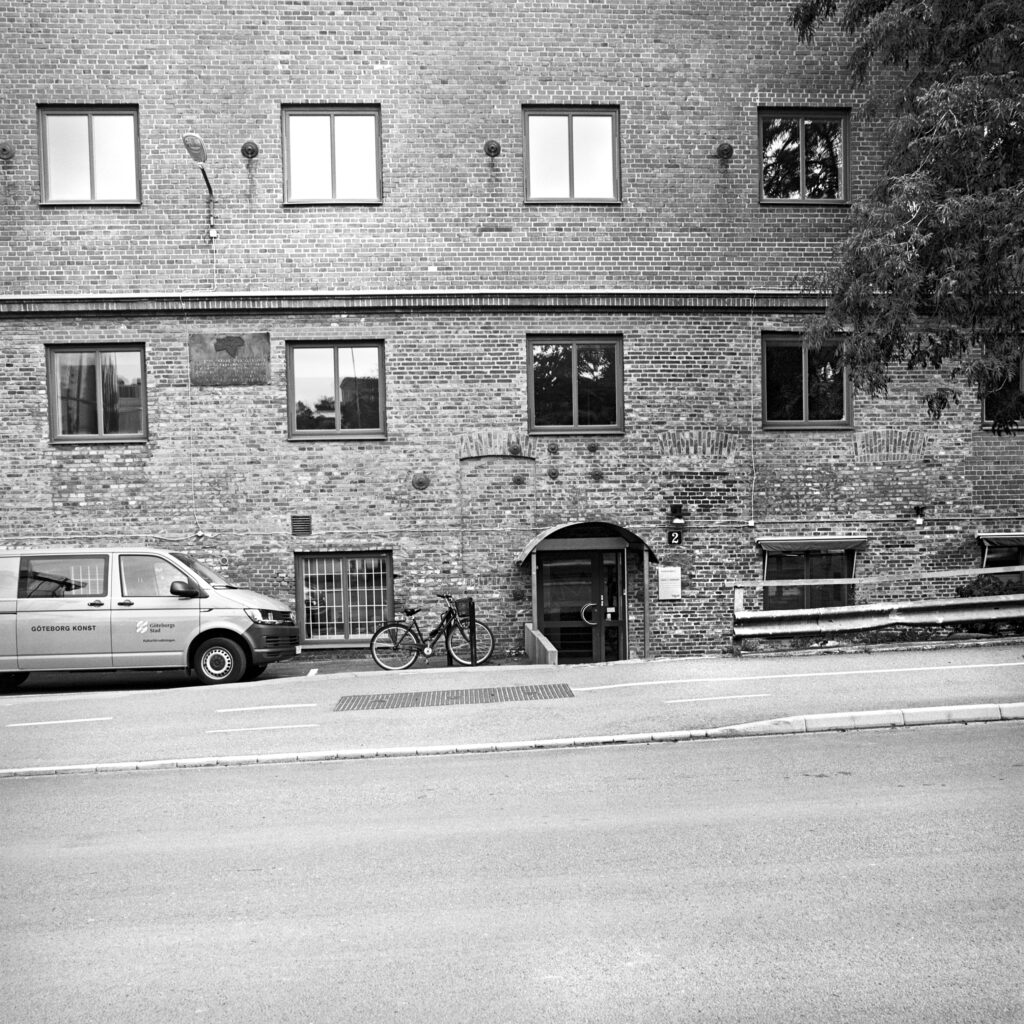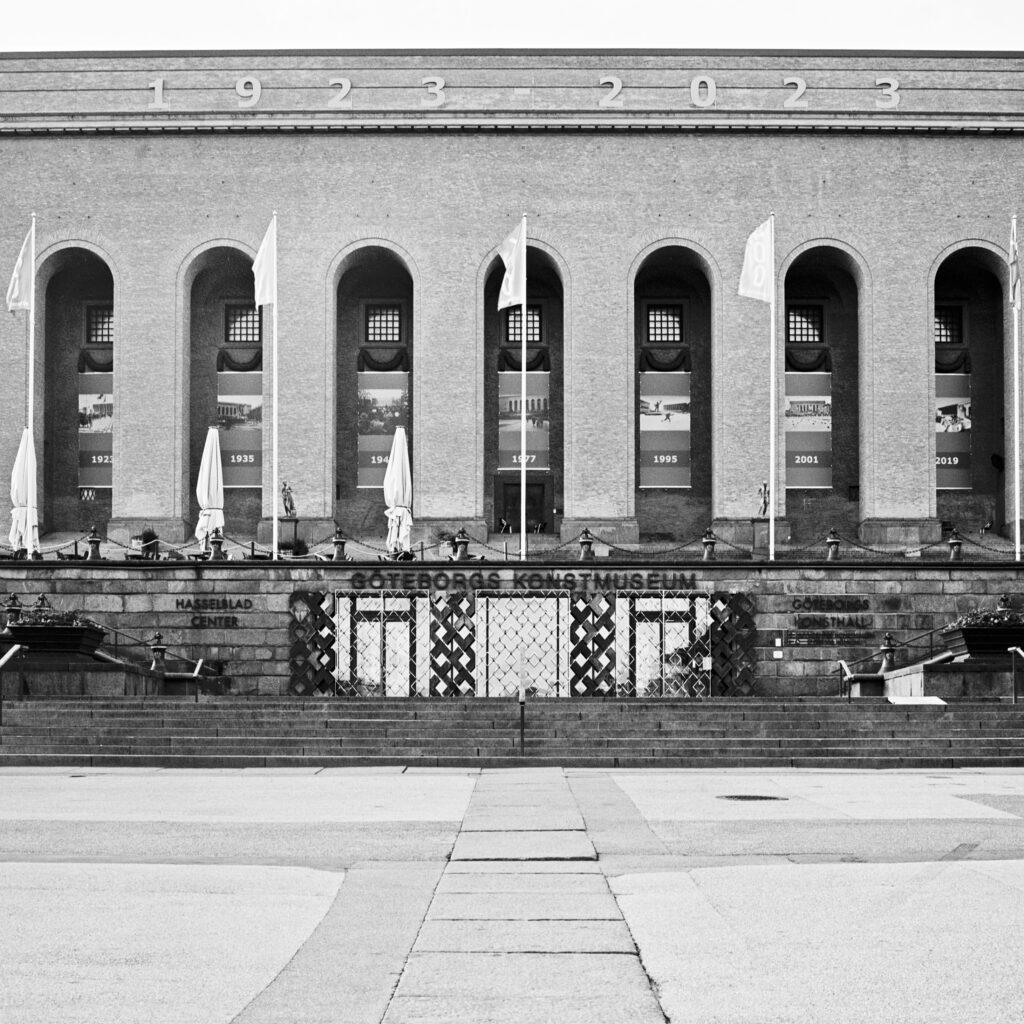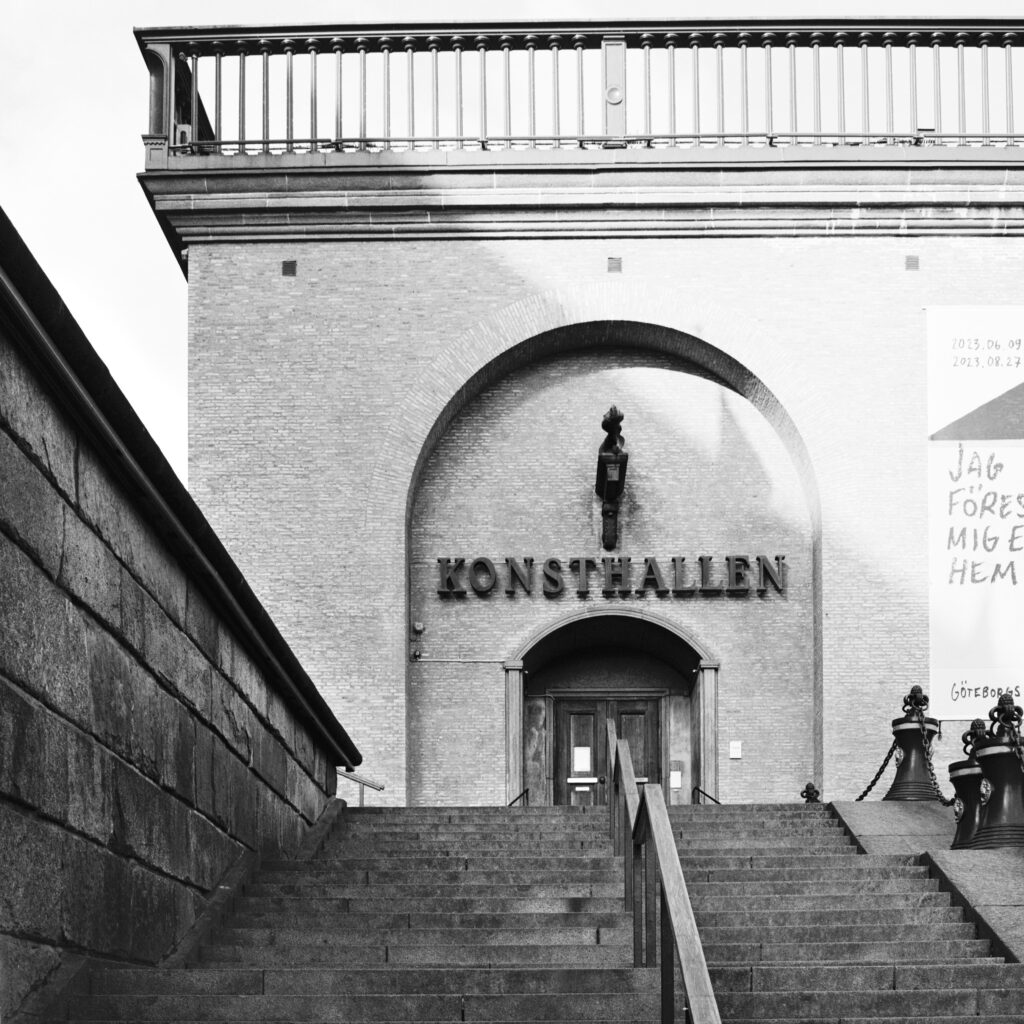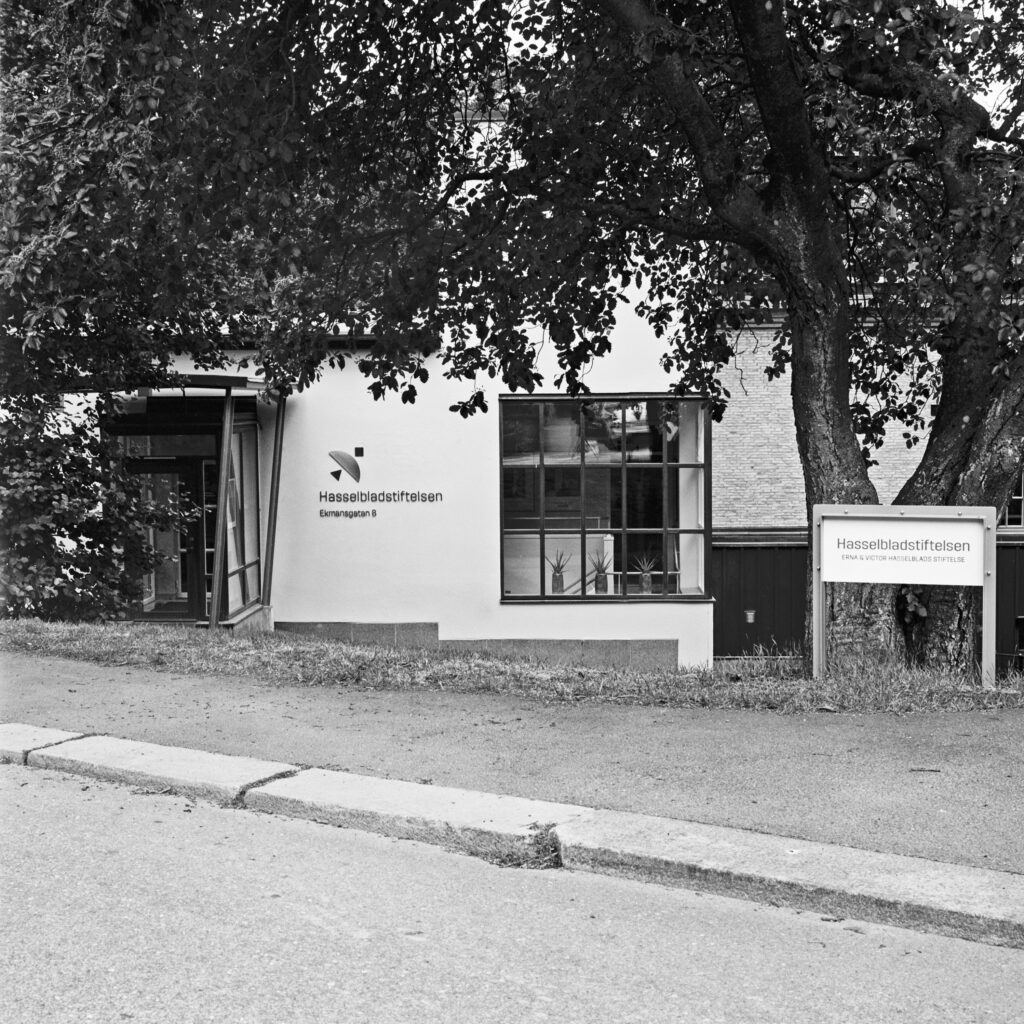 —
Creative profiles
-Portraits of creative people
Jason Andersson
In the project "Creative profiles" Jason Andersson theorized the function and design of the portrait with the goal to present a profile consisting of three parts: the collage, the documentary/photographic and the storytelling/textual portrait. In theory the function and design of the portraits are equal. The direct link between the image and what it represents, the meaning of the text and the collages, give us a multi-faceted understanding of the depicted. Each type of portrait has a value to the observer, for some the textual portrait will be more trusted than a photograph. The painterly portrait can also have a sliding scale of trustworthiness between realism and abstract.
Andersson paints in oil on canvas and photographs in digital and analogue film. He finds ways to combine the two creative tools through collages and mixed media. The polarity between classical art and photography is a topic he is interested in, revolving around how art can create new answers about one's own self. The project included meeting, interviewing, and photographing five active photographers. The collages in the project, were made based on the interview, photos taken and the creative process itself and made from the source material, inspired by the meeting as well as the material available such as paper cartonnage, white and colorized heavy paper, tissue paper, oil stick, glue gun, text from interviews. The cameras used was a polaroid camera and a digital camera.
As viewers of this project, we are transported to the moment of the exposure in camera, we get contextual information from the text, and finally creative aspects through the collage which allows for other translations. The onlooker can discover that there is a connection between the text, the image, and the collage. The first piece of knowledge the viewer receives is processed so additional understanding is attained by linking the image to the text to the collage.